Below, we'll go over our most recent development called ProPush Subscription Links, explain how they work, and discuss the benefits that publishers enjoy when using this innovative feature.
How Did We Come Up with the Idea of Subscription Links?
We've worked with countless publishers, and we've realized that a lot of our clients do not have the technical abilities or their own servers to start working with us. Our team received a lot of suggestions directly from our clients, many of which asked for a simplified monetization process that didn't include tags or landing page development.
Our goal is to give our members the highest chances of success and to simplify their start with us, so we created Subscription Links to cut out as many steps as possible.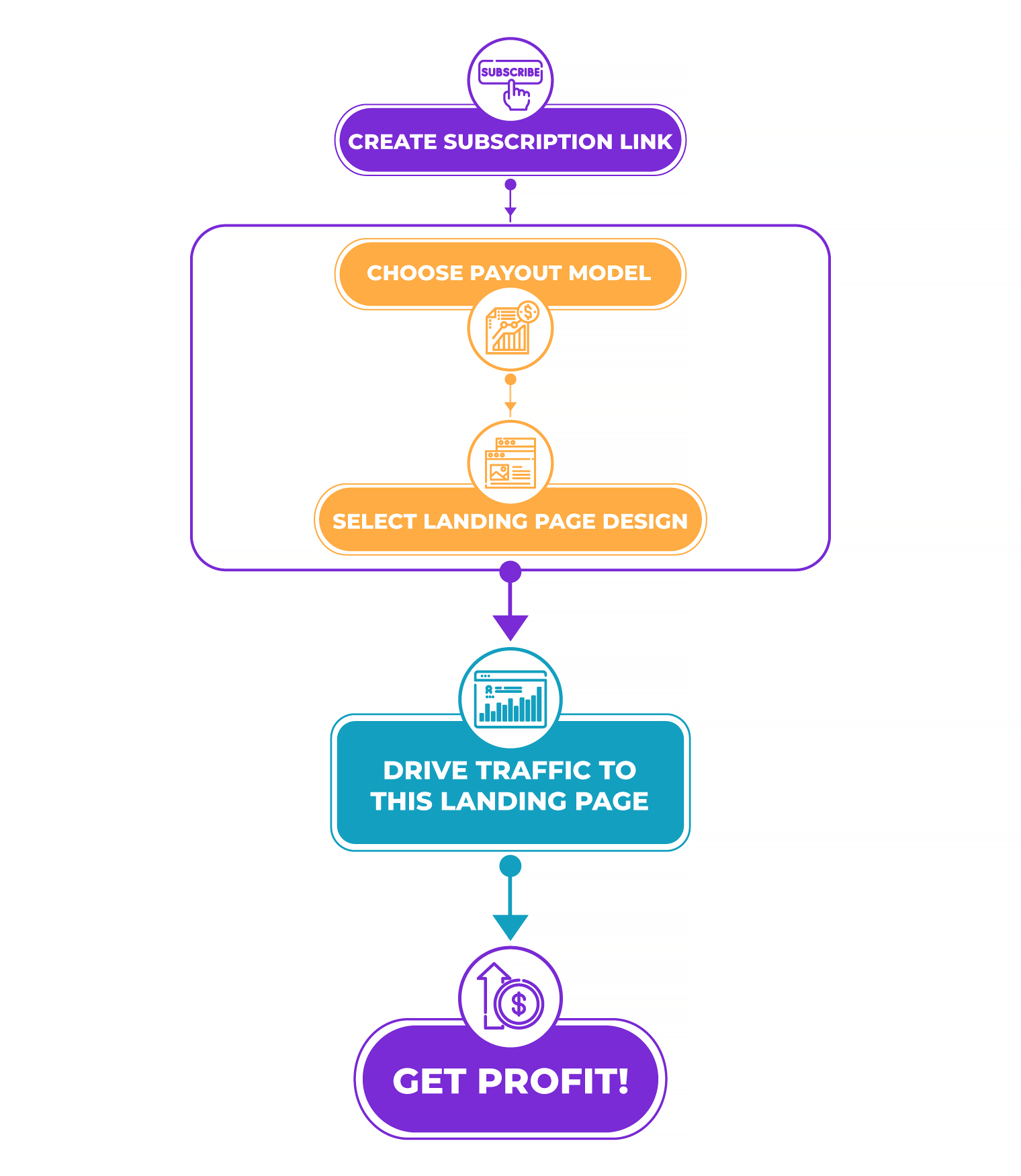 But Wait, What Are Subscription Links Anyway?
In simple terms, Subscription Links are URLs that lead to premade landing pages, which contain a push subscription prompt.
Instead of creating their own landing pages and setting up push subscription smart tags in the backend, publishers & affiliates can simply drive traffic to Subscription Links and start generating revenue.
Benefits of ProPush Subscription Links
There are many benefits that come with using Subscription Links, including:
Simplified set up process
No need to access settings or create landing pages
High subscription rates
Works for a huge collection of GEOs
Easier conversion flow
Subscription Links: How Do They Work?
The concept behind ProPush Subscription Links is extremely simple. All publishers have to do is drive converting traffic to the subscription link, and that's all. Publishers get paid depending on the specific link rates, which can either be paid out based on the number of subscriptions generated:
CPS — cost per subscriber.
Revenue Share — cost per 1000 impressions of push notifications that your subscribers get.
Our observations suggest that the rates in our Subscription Links are much higher than average, but if you're not sure, you can always run a split test and check for yourself.
Who Can Benefit from Subscription Links?
While it may seem like this feature is suitable for new publishers, it's actually a great option for beginners and experienced affiliate marketers and publishers.
Beginner affiliates that don't have experience with push campaigns can benefit from this setup because they only have to focus on driving quality traffic. The conversion flow is easy because each subscription is a conversion itself. Plus, our platform has a friendly interface, so newbies will have a short learning curve. All these affiliates need to do is drive traffic to the link and withdraw whatever amount of money they generate.
Experienced marketers that already use similar solutions can switch to ProPush and enjoy much higher rates than the average provider. Plus, our platform also offers fast payouts, convenient withdrawal options, a simple interface, a custom API, and the ability to view stats in any time zone.
Besides that, ProPush hosts its landing pages on extremely fast servers, so all the pages will load in a blink of an eye. That's how our CR is way higher compared to what our competitors have.
GEOs Compatible with Subscription Links
Subscription Links are available for 200+ countries and regions around the world. The TOP GEOs compatible with Subscription Links include:
🇦🇷 Argentina | 🇧🇷 Brazil | 🇮🇩 Indonesia | 🇹🇭 Thailand | 🇺🇦 Ukraine
🇰🇪 Kenya | 🇳🇬 Nigeria | 🇵🇭 Philippines | 🇮🇳 India | 🇧🇾 Belarus
All available GEOs and actual CPS rates for each platform can be found in your dashboard on the Rates tab
Scaling Your Platforms for Success
Remember, Subscription Links can produce great results, but they are not necessarily a long-term strategy. You can start with Subscription Links, assess push subscription vertical and your revenue and move on with creating your own custom landing pages. If you create your own landing pages, they will be more flexible.
Want to Share Your Experience? We're Always Listening!
Share your experience with us and tell you what types of results you're getting. Feel free to leave a comment on our Telegram chat or contact our team, and we'll be glad to hear your feedback.