That is why, ProPush doesn't have any pre-made landing pages just because making your own is a more efficient way to promote your offer. You are the only one to know your marketing strategies, aims, and style. As such, instead of giving you any ready-made stuff, we decided to provide some instructions.
---
What if you want to compose a landing page all by yourself?
In general, you have two options here - creating a landing page from scratch and using landing page builders. Let's start with some general recommendations.
Try not to be another copycat. Even though some verticals have pretty standard landing pages, think about adding something unusual - try different styles, colors, and feature placement.
Test a number of landing pages and see which works better. Test as many variables as possible - colors, leadgen forms, shapes, location of elements! Sometimes, the shape of the button can change the game - no kidding.
If you have a registration or any other leadgen form, we recommend locating it somewhere at the top of the page. PropellerAds' tests showed that this location is the most efficient in terms of CTR.
Create it from scratch:
Creation of the landing page starts with an HTML page. Basically, HTML organizes the web page structure and defines the location and appearance of all the elements used - images, registration forms, lists, headings, etc. 
So, basically, if you have inspiration and time to try yourself as a web-page creator and compose your landing page with your own hands, you are welcome to read these instructions. Here you will find everything needed, including the basic HTML code + examples. 
Still, there are simpler options.
Use a landing page builder:
If you are not feeling like practicing HTML, then you can stick to a landing page builder. There are numerous online solutions to rely on, and we will share a list of efficient services below.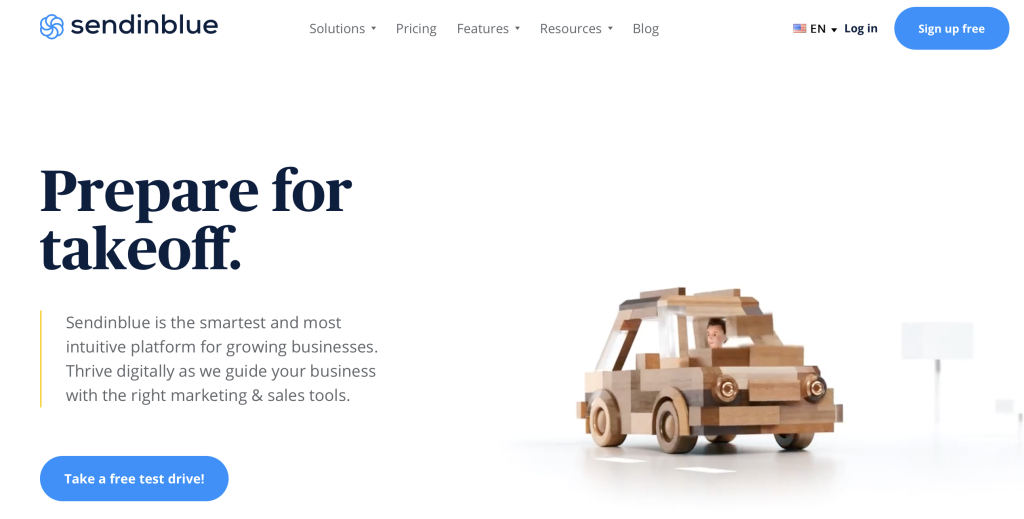 Monthly prices: free basic plan, $19 for a beginners plan, $49 for a premium plan, custom enterprise plan without a fixed price
SendinBlue is a smooth landing page builder with a huge collection of stylish editable templates. Also, this service has strong instruments for A/B testing, email marketing, and other performance-boosting activities.

Monthly prices: $37 for a standard plan, $79 for a pro plan and $321 for an advanced plan
LeadPages is a very simple drag-and-drop tool. You can use it to create a professional-looking landing page in minutes, plus - benefit from numerous optimization tools, including statistics. The service includes 200+ templates and an analytics dashboard to see how users act on the page.

Price: $25 for a 6-month subscription
Being an affordable landing page builder, PureLander offers 150+ templates available for customization and editing. This service also includes numerous features to add CTR-boosting scripts, redirects, alerts, and more.

Monthly prices: $90 for basic plan, $135 for professional plan with optimization, $225 for the advanced plan
Unbounce is an AI-based landing page building service, suitable for newcomers and experienced affiliates. With this tool, you can make landing pages with pop-ups and other interactive elements, add images from the huge library (850,000+ files), and apply custom scripts (HTML, CSS, and JavaScript), if you are feeling more techie. And AI can help you create engaging copies.

Monthly prices: $29 for basic plan, $59 for medium, $119 for advanced
Swipe Pages is another simple drag-and-drop tool for fast landing page building. In addition to templates suitable for various verticals, the service also includes instruments for analytics, A/B testing, and integration of third-party applications.
---
What if you don't want to create a landing page yourself?
In this case, you have to hire a freelancer. Yes, that's prosaic. So, if you are not inspired by HTML stuff as well as landing page builders, you should visit some websites, where skillful people are ready to help you for money. Some popular platforms to check out are:
What skills to search for?
Okay, but which people do you need to hire? Which skills to search for? Let's see.
First and foremost, web design, of course. And we recommend hiring designers with relevant portfolios - those that include landing pages and websites. The point is that your landing page should bring you conversions, not just look nice. So a designer should be aware of how websites should work, where to locate the elements, and how to make it efficient from the marketing point of view.
Basic front-end skills. Your freelancer doesn't have to be a coding genius, but at least some basic front-end skills are necessary - the hired person should know how to organize the elements together and make them work properly. Some designers have such skills and maybe you are lucky enough to find one.
Copywriting. Another important element of a converting landing page is a laconic and catchy copy. If you are not sure that your writing skills are enough, try hiring a freelance copywriter with a marketing background. You need a headline, subheader and body of the text to be high-quality, informative and salesy. Ask a writer to add a product description, success story, instructions, or promo terms depending on the offer type. The main question to be answered in the text is: "What will I get? Why do I need it?"
How much will this cost you?
We can take Upwork as an example of the starting market hourly prices:
Front-end developer - $15-35
Web-designer - $15-30
Copywriter - $19-45
So, in general, a super-professional landing page done by a team of freelancers can cost you about $250 minimum.
---
Some important ProPush rules to follow
Remember - freedom of creativity is not chaos, but a well-organized structure that follows strict rules. Okay, let's leave that couch-based philosophy aside and get straight to the point.
To start collecting subscriptions and getting your additional income with ProPush, you need to meet our requirements regarding websites and landing pages (the full policies are right here). And here are some very important basics:
Paid domain - only a paid domain gives you an opportunity to reach the root catalog and insert Sw.js (Service Worker file) into a code. Without doing so, you cannot use ProPush.
SSL protocol - your website should have "https://", not "http://". If you are hosting with a reliable service, they usually provide dedicated SSL protocols. If you don't have one - you can purchase it.
No blog websites and free-hosted domains - we don't work with WordPress, Blogspot, Wix, and Weebly websites.
Here you go! Now you are fully equipped with tools, advice, services, and information for landing page building. So what are you waiting for?