1. What is Propush.me?
Propush.me is a special project of PropellerAds, which was designed to simplify the monetization of traffic with push subscriptions. Here we help webmasters and affiliates to earn high revenues on Push notifications.
Being a part of Propeller, we invested all our Push expertise into the development of this dashboard platform. We were the first to launch Push Notifications as an advertising ad format, so we know how to drive value for our partners. With Propush, marketers can additionally monetize their offers using our advanced push tag.
---
2. Who can benefit from Propush.me?
If you have a website, landing page or even a pre-lander with certain traffic volumes (that's important), then Propush.me is the right option for you. Our platform helps get extra profits from push subscribers collected from your traffic.
---
3. Do we provide ready-made landing pages?
We do not provide ready-made solutions, because we believe that a custom landing page will give you better results, since you can make changes to the landing yourself and significantly increase the CR. You have full access to the landing page at any time, there is no interference on our part.
Testing your landings, you can decide for yourself which landing works more efficiently. To create landing pages, you can outsource specialists or use landing page builders. We go on with our talk.
---
4. How to start earning with Propush.me?
We made sure that working with Propush.me is exceptionally easy. Here's how it's done:
Register with Propush.me (that was obvious, right?)
Create a Smart tag and add it to your landing page or pre-lander
Monitor performance, optimize, and make money (profit!)
We even have a super-detailed quick start guide where you can find comprehensive instructions on how to integrate everything and enjoy additional profits. It's right here!
---
5. How to verify my website?
You have two options for verifying your website. It will be quite easy. All you need to do is copy the verification code and place it between <head> and </head> tags in your site's source code or download our verification HTML file to the root directory of your website. By following this link, you will find detailed instructions.
---
6. What is a Sw.js file or Service Worker File?
A service worker file is a script that you need to upload in your website's landing page's root directory, opening the door to features like push notifications.
sw.js file is needed in order to deliver and show push notifications to those who subscribed before. You can download the service worker file in your personal account along with the tag.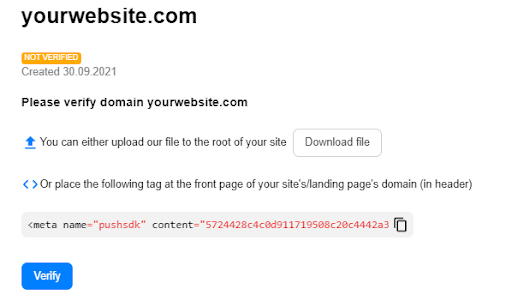 ---
7. What is the limit on the number of sources added?
We limit the number of sources to three by default, as we consider this volume optimal, however, the number of sources can be increased on request. If necessary, contact the support team and they will help you figure it out.
---
8. Will Propush.me affect my offer's conversion flow?
The answer is no. Why? Because it doesn't matter if your users decide to subscribe to push or not – they are not redirected anywhere. The opt-in request is shown on the offer page, and users can freely interact with this page and convert.
---
9. What monetization options exist, and how is each one paid?
At Propush.me, you can make money with Push subscriptions and TrafficBack. How do you make money with Push subscriptions?
There are two scenarios:
Revshare: you get paid for every 1000 push notifications delivered to subscribers you brought. Your income depends directly on the quality and the lifetime performance of these leads.
CPS: you are paid each time a unique user subscribes to Push Notifications on your website/landing page. Prices for each GEO and platform can always be found in the "Rates" tab of the dashboard menu on the left.
A special monetization option, perfect for affiliate marketers is TrafficBack. Your second chance to monetize ALL traffic if your primary monetization method didn't work out.
Each webmaster can set trafficback to be triggered in certain events: if the user subscribes (=clicks "allow"), if a page visitor is already subscribed, etc.
In other words, we don't have a default scenario. You have to set up how trafficback will be triggered: be it a specific event (consent to receive push, rejection, etc.) or all the events.
Trafficback is paid with Revshare as well.
---
10. How can I track and optimize the traffic sources?
In your Propush.me account, you can track and optimize the traffic sources, exclude them if there are no conversions, and include the most converting sources to your stats using the parameter Source ID. We encourage the transfer of sources, as it also allows us to better optimize traffic and give our partners better results.
In order to do that, you should pass the ID of the source. Need more information? You can read all the detailed instructions here.
---
11. What does each of the parameters in statistics mean, how do we calculate CPM?
CR (Conversion rate) – is the number of pre-requests to the tag (the whole amount of traffic sent to the landing page/site) divided by the number of actual subscriptions we got from this whole traffic.
First Impressions - identificator which shows how many first impressions we got from the users subscribed on this or that day and who got the first push right after the subscription. The difference between First Impressions and Subscribed you got per one day should not be significant. If the number of new subscribers greatly exceeds the number of first impressions on that day, it's likely to be low-quality traffic.
Duplicates - users already subscribed to the database of PropellerAds. Duplicates are paid only with Revshare.
CPM (Cost per mille) – the average cost of 1000 impressions per geo/platform/overall.
We really hope that some things have become much clearer. Propush team stays in touch with you, we are ready to answer your questions any time. Ready to earn with push subscriptions? Then see you at Propush.me!
Join our Telegram chat if we haven't answered all your questions.