As a rule, affiliates rarely work with the Revshare model. The reason is obvious - it doesn't bring immediate results and makes you wait for some time until you get your money. This is true, but it doesn't mean that Revshare is not beneficial - it brings amazing results when approached smartly. Today, ProPush is going to share a successful case of our partner and tell you more about the real way to earn cash with a perfect combination: Revshare + Push Subscriptions. Let's roll in!
Сampaign details
This wasn't the first Push campaign launched by our customer - he has been working with ProPush.me for a while already. This time, his campaign was arranged this way:
GEO: Brazil, India
Period: May 2021 - today
Ad format: Popunder
For a while, our partner worked with Brazil, but his campaign analysis proved that this GEO needs reconsideration. As he noticed, the competition became too high, so he switched to India. As such, we can observe this example as both - a long-playing and a fresh Revshare campaign at the same time, since changing a GEO was a significant shift.
To start working with ProPush.me, one receives a push subscriptions Smart Tag, sets it, sends traffic to the required landing page, and enjoys income. When working with the Revshare model, affiliates get paid for all the subscribers, no matter if they are old or new. In other models, affiliates receive commissions for one-time user actions (for example, when visitors allow notifications). In Revshare, you get paid during the entire subscription period until a user unsubscribes.
Reasons to try Revshare
If you are still not sure about the Revshare model, here are some reasons to try it out:
You will receive money regularly and for a long period. The best thing about Revshare is that your subscribers continue bringing constant revenue. As we have already mentioned, you get paid during the entire subscription period.
Be patient and the results will impress you. You will have to wait for a while until the cash flows, but this will definitely happen. This model is for patient affiliates, so if the first results are not good enough for you, just give it a while.
People rarely unsubscribe. From our experience, when people accept push notifications delivery, they usually stay subscribed for a significant amount of time. Of course, some of them leave, but that's not a big deal, because new ones come instead. ProPush.me has a convenient cabinet where you can see numerous parameters, including the unsubscribe rate. Track the tendency and make conclusions.
More subscribers - more money. Everything is in your hands! Your revenue will grow along with the size of your base. You can bring more people and receive better income.
So, we believe that Revshare has numerous benefits and it is worth your time. You should definitely try it!
How to set things up and start collecting subscribers?
To start working with ProPush, follow these steps:
Create a ProPush.me account or enter yours if you already have it;
Follow this way: Sites > Add Source (this is your website or landing page where push notifications will appear);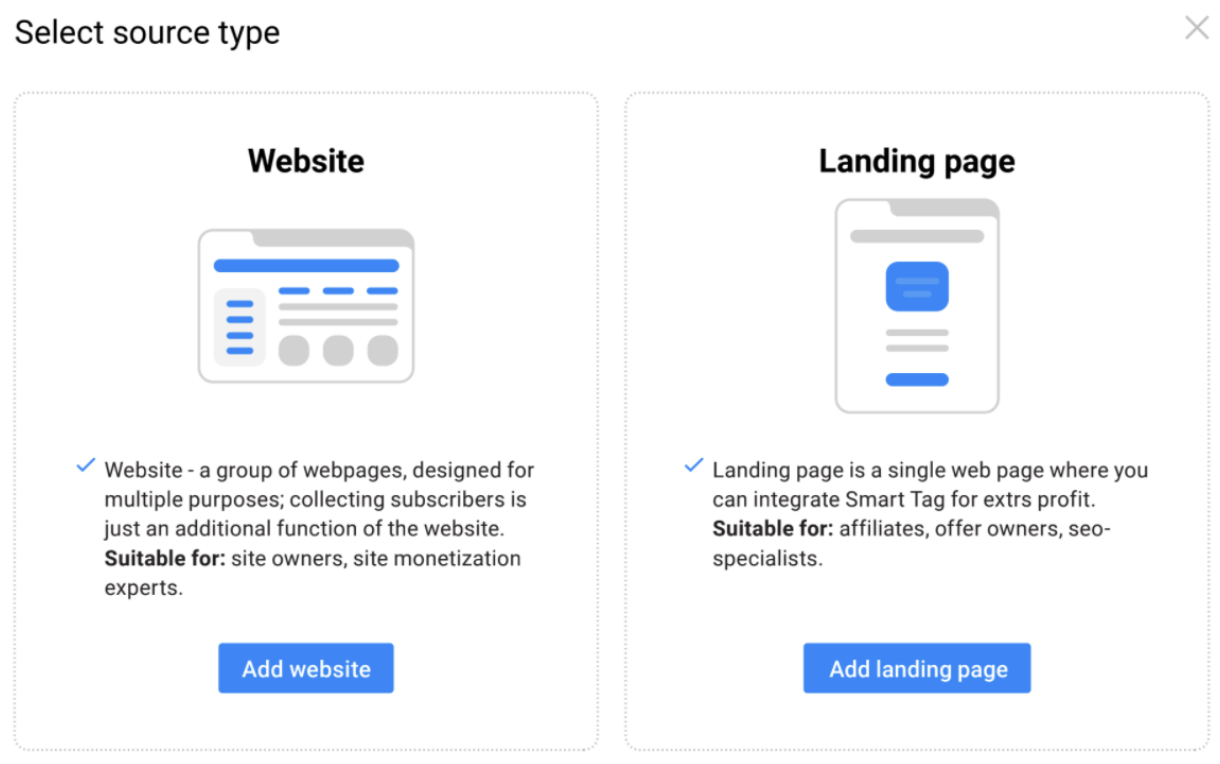 Now add your URL and upload a JS file to the page source. Wait for a while until everything is verified and approved;

Got approval? Good, now move to the tags section and choose the one you prefer, plus - decide the model (Revshare or CPS);

After that, you will get a push subscription tag in the form of a script. Your task is to add it to the HTML of your landing page/website right into the <head> section. Plus, don't forget to insert a sw.js file into the page root.
That's all. Don't worry, no more settings are required - just complete the steps above and push notifications will appear on the page.
Campaign management and optimization
Here is a pinch of affiliate wisdom to remember - analyze and optimize your campaign regularly. Luckily, ProPush.me allows you to see stats and evaluate performance. For optimization, we recommend getting a tracker like Voluum or Binom - both can be easily integrated into ProPush and your advertising network. Such trackers help you see if your campaign has weak spots regarding numerous aspects, like platforms, devices, countries, etc.
Also, it is necessary to form white and black lists. Those targeting settings and traffic sources that don't bring you conversions should be blacklisted - this will help you save your budget from useless spending. On the contrary, the white lists should include fruitful websites and settings.
Here is a tip: trackers like Voluum and Binom can help you discover if you have undesired or untargeted traffic (wrong GEOs, OS, device type, etc.). Just send it to a TrafficBack link and cash on irrelevant traffic, as well.
Campaign stats
Our partner started his campaign in May and it is still on the run. Take a look at the first month of his work:

The revenue doubled during the month, even though the number of subscribers stayed the same. As you can see, in the Revshare model, impressions matter more than subscribers - while the latter don't change, impressions grow and increase revenue.
And now check the August stats:

The minor drop happened due to the GEO switch, but our partner fixed it pretty quickly. If you still have doubts about Revshare, well, just take a look at these screenshots and leave your hesitation behind.
Don't be afraid of experiments and good luck with your campaigns! ProPush.me is always ready to become your partner, so register today and let's do it.