Still, some of our partners become a bit confused about how much and how often we pay. No worries — we'll share all details in this payments guide right now.
---
Revshare vs. CPS
If you are already familiar with ProPush, you know that we have two payment models: RevShare and CPS. What's the difference and what to choose?
CPS, or the Cost per Subscriber. It's very straightforward: a user subscribes to push notifications on your landing page, we pay! How much? Here are our current CPS rates per 1000 subscribers: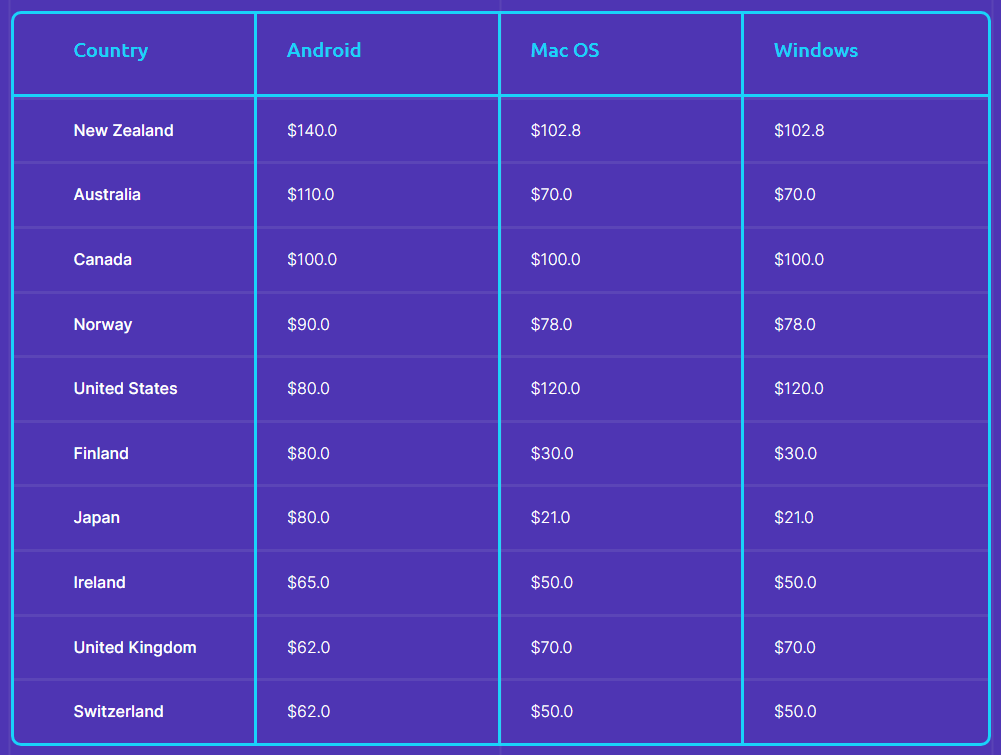 These rates can change, but you can check the actual ones in your Dashboard under the Rates tab.
The main advantage of this model is that you get a subscriber and don't care about what will happen to them next — you get paid once and that's it. Note, that this model is not available for the newly-joined partners — in the beginning, you can only work upon RevShare.
RevShare. In this model, we pay for notifications delivered to your subscribers. So, a user subscribes to your website or landing page, we send them notifications, they interact with them — and you get your profit! We work based on RevShare with all of our new partners, but you can switch to CPS later.
This model is perfect for those who have large volumes of high-quality traffic. Although you might need to wait a bit before you get your first earnings, it pays off pretty quickly and brings significant profits.
---
How Do I Know How Much I Earned with ProPush?
We have two kinds of stats that show your earnings. The first one allows you to check your daily profit: just enter the Earnings tab on your dashboard: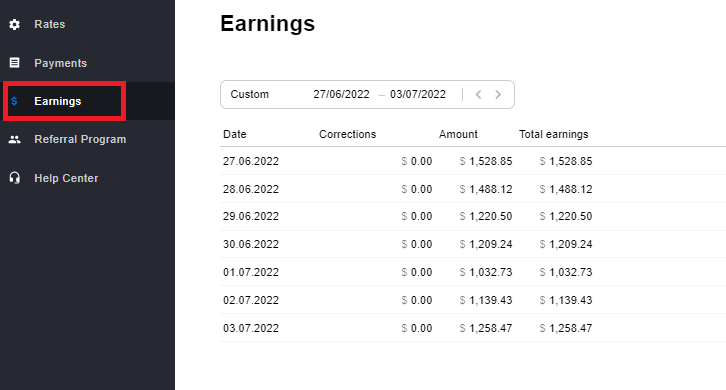 And what if you need to know the whole amount for a particular period of time? It's available under the Statistics tab. Just select the dates you want to check, and you'll see your total profit:

---
When Can I Withdraw My Earnings?
Our payout rules are very simple. They are the same for both Revshare and CPS partners, and there's only a slight difference for the newly-joined partners.
We automatically send your earnings for the whole previous week to your default payment method on Thursdays.
Let's look at the example to make things easier. For instance, you sent your traffic to a landing page with a ProPush tag from Monday, June 27 until Sunday, July 3. You earned $8877. You will withdraw this exact amount next Thursday, July 7 — after a four-day period of hold.
Suppose you continued to send traffic after July 3 and earned some more with ProPush. It added more profit to your overall earnings.
So, at the moment of withdrawal on July 7, you have, say, already $14990, not $8877 on your account.
However, you can only withdraw the funds earned during the previous week. Your payment schedule will look like this:
Dates
Your profit
Amount to be paid on Thursday, July 7
Amount on hold until next payday on Thursday, July 14
June 27 - July 7
$14990
$8877
(Earned June 27 — July 3)
$6113
Note that your balance in the right upper corner shows ALL your earnings — including what you can already withdraw and what will be held until next Thursday.
Let it not confuse you — and check the earnings in the Statistics dashboard exactly for the previous week.
An important note for those who just joined ProPush: we make the first payout after 14 days of your work.
To be more precise, this first payout happens on the first Thursday after two weeks pass. For example, you have collected subscribers for 14 days, and this 14-day period is over on Monday. You will need to allow up to three more days — and your payout will arrive on Thursday.
---
What are the Payment Options?
We do our best to provide you with a wide range of convenient methods for quick withdrawals — and here is what we have for now:

Mind the minimum payout amounts and fees:
Payment method
Minimum withdrawal
Fees
All but the bank transfer
$100
None
Bank Transfer
$500
$50 for payouts less than $1000
Free, if you withdraw $1000 or more.
Didn't find the best suitable payment method? You are welcome to suggest yours, and we'll see if we can add it in the future.
---
Can Anything Go Wrong?
Basically, no — our smart system works without bugs and errors and counts all earnings correctly. The only thing that can happen is issues with your traffic. All of you can face low-quality traffic providers or just bad sources — and accidentally send some fraud or bot traffic to ProPush.
In such cases, we always speak to a partner personally, discuss the issue — and sometimes claim a refund. However, it's not a commonplace situation for us, and you provide us with high-quality traffic, you have nothing to worry about!
---
To Sum Up
We hope this guide helped you to work with ProPush more effectively and have a better understanding of your earnings. You can always contact our customer support team at support@propush.me or your personal manager if you have any questions left. And if you haven't joined us yet — you are welcome to do it now!