ProPush can easily become a separate source of income — and this is what large media buyers actively use and enjoy. How does it work and what does it have to do with TrafficBack?
Let's find out right now.
---
What is TrafficBack and How Does It Work
TrafficBack is basically a link that redirects a user to a relevant offer. There are two ways how you can use it:
#1. TrafficBack for monetizing as many users as possible.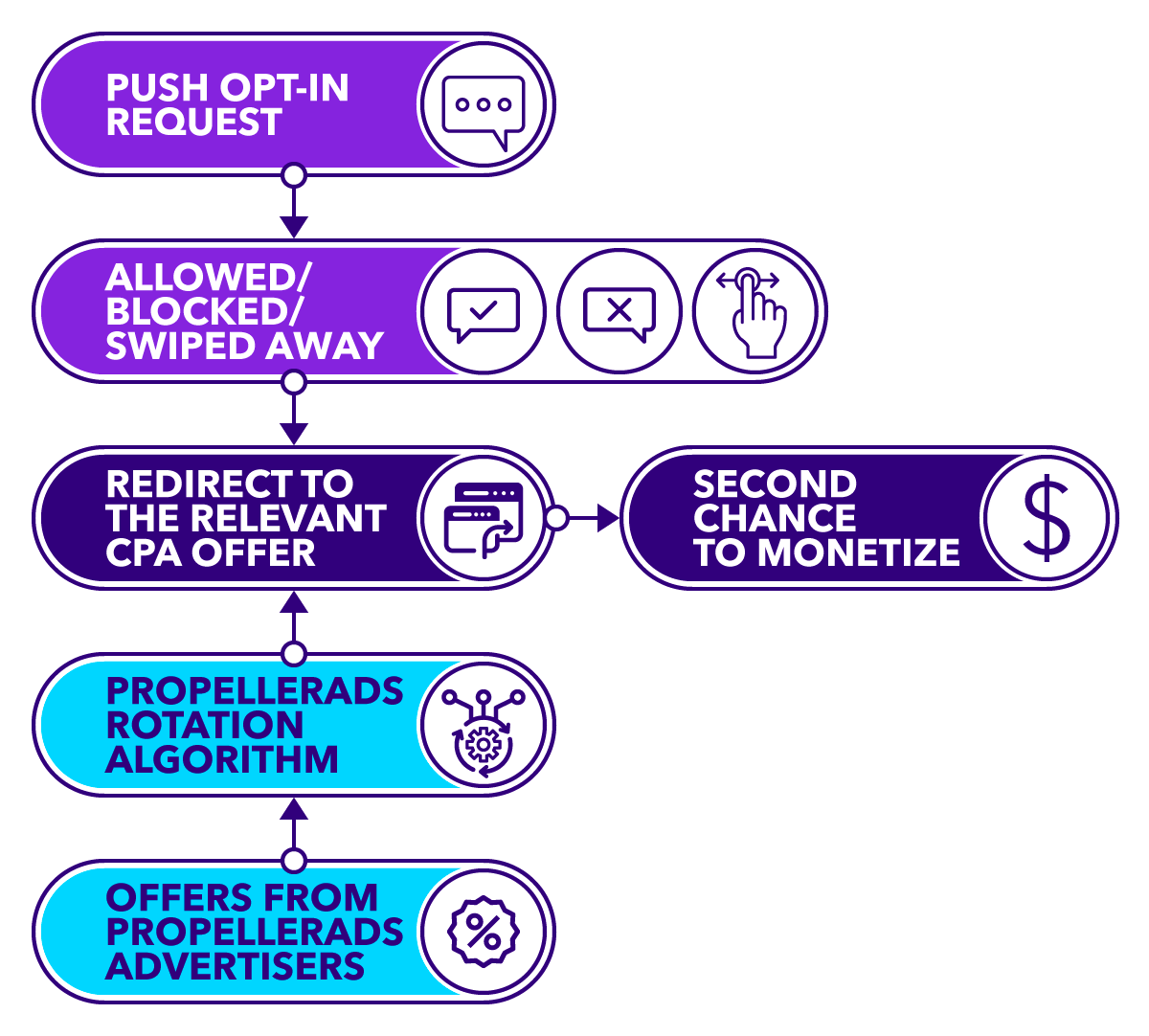 In this case, a redirect is triggered by a certain action that a user does on your landing page. To be precise, we'll show all possible scenarios for TrafficBack:
A user subscribes to notifications
A user blocks an opt-in request, closes it, or swipes away
A user presses a Backbutton in your browser
A user comes from an unsupported platform (for example, an iOS user can't subscribe to browser push notifications)
You can add all the scenarios in your TrafficBack settings — or choose a part of them.
#2. Direct TrafficBack Link.

You can use TrafficBack without a landing page — and send your traffic directly to this link. Your users will be redirected to a relevant offer as soon as they follow the link  — no other actions are required.
Direct TrafficBack link from ProPush has higher rates and contains only the top CPA offers with the best and most relevant ads.
Besides, you can add this link to your main offer or use it for a browser Backbutton.
This option is available upon request, so contact our support team (support@propush.me) to get a direct TrafficBack link.
---
How to Apply TrafficBack wisely?
When we are speaking about TrafficBack for large media buyer agencies, we usually imply two points:
There are much bigger volumes of traffic than solo advertisers have. So, users who don't convert mean large expenses, and you must have extra ways of monetizing to cover them
There is usually a separate campaign created exclusively for push collection or a TrafficBack link campaign
Of course, media buyers can use ProPush for extra monetization of their offers, too. Still, most of them prefer separate push collecting campaigns, as their traffic volumes allow them to earn with such campaigns really quickly.
Overall, there are three top profitable strategies that you can apply. We gathered our recommendations with the best practices of our partners from media buying agencies — and will share them right now!
---
Strategy 1: One TrafficBack Link for All Events
It's the simplest one.
First, you create a special landing page for push subscriptions. It doesn't contain any offers and only serves a single goal: collecting subscribers.
One of the most popular push collection landing page types is a page that shows users a video. To watch the video till the end, a user has to accept a push notification opt-in request.
Without TrafficBack, everything is very straightforward. A user either subscribes or not — and that's it. But why lose such large amounts of traffic if a request is declined? Every user that rejected the subscription request can cost really big money — so it makes sense to squeeze the most of your traffic.
And here actually comes the TrafficBack. Added to all available scenarios, it can help minimize expenses and boost profits at the same time.
The settings are simple: create a TrafficBack link in your account and then tick all the events you want to include. You will find detailed instructions on creating and setting TrafficBack in our guide.

And the step-by-step strategy is the following:
You create a landing page for push collection.
You add ProPush Smart Tag and set TrafficBack to all scenarios
You launch a campaign in an ad network to drive traffic to your landing page.
Users subscribe and ProPush pays you for them
Users who close, swipe away, or leave your page are redirected to another offer with the TrafficBack
Will it be profitable? Well, let's just look at the stats: here is the weekly profit of our partners from a large media buying agency who use this strategy as their primary workflow with ProPush:

Pro tip: to make this strategy work, it's essential to find a profitable Ad Network — OS — GEO bundle. It's the most complicated and time-consuming part, but the rest of the workflow is almost automated.
---
Strategy 2: Separate TrafficBack Links
This one is almost the same but a small detail in your settings. You set everything as you did for the previous strategy — but install a separate TrafficBack link to every event. 
How to do it?
Create a TrafficBack link in your account
Select a single event for traffic back in settings
Repeat both steps for the other events
Why would you need it? Such a move might help you better analyze what happens to your traffic in different scenarios. Experienced media buyers prefer to see more accurate stats of monetized traffic, for example:
70% of traffic was monetized with push subscriptions
20% of traffic was monetized with backbutton
5% of traffic was monetized with a blocked opt-in request, etc
Such detailed statistics allow you to understand user behavior and optimize your landing page and its content accordingly.
---
Strategy 3: Getting the Most of Remnant Traffic
If you want to work with TrafficBack separately and send traffic to a TrafficBack link directly, you can safely use remnant traffic.
Here are two options large media buyers usually prefer with a Direct TrafficBack link:
Purchasing remnant traffic from networks
Monetizing remnant traffic from CPA offers
Pro tip: you can add a direct TrafficBack link at the end of your CPA offer flow after a user converts. For example, when you are paid per lead and need to collect email addresses, you can add a TrafficBack link after a user presses the Submit button. This user will be redirected to another offer as soon as they complete the conversion. Besides, you can install this link for Backbutton to monetize users who want to leave your landing page.
---
General Tips
TrafficBack is a powerful tool by design — but you can make it work even better if you know the best practices. Here are the tips we suggest to our partners when working with TrafficBack:
Creatives. If you run a campaign for push collection, pay much attention to creatives. Although TrafficBack will help you to monetize most users who didn't subscribe, your landing page still should be persuasive enough to get subscribers. Test as many creatives as possible before you find the best one!
Traffic Type. The best traffic for collecting subscribers is usually Pop and Redirect. Besides, you can try social and SEO traffic — but we don't recommend using Push.
Browsers. TrafficBack brings the best results with the latest versions of browsers — they are most likely to have real, no-bot users. According to our stats, the best are Google Chrome, Samsung Browser, and UC browser (mainly for Tier 3). Besides, you can try Microsoft Edge, as it can bring you pretty high-paid subscribers if you find a good bundle.
Optimize your TrafficBack links. You can set Postback or add your sub-sources for more accurate tracking and better performance. We described the full workflow in the guide: How to optimize your TrafficBack links.
---
Nothing too difficult, right? If you have any questions left, we are ready to help and explain: just contact our customer support team at support@propush.me.
Once you are done with the settings, you can enjoy profit from TrafficBack almost immediately. Don't miss this chance to monetize as much traffic as possible — and make every user bring you a maximum of income.