With Back Button, you monetize those users who were trying to leave your site using the back button in a browser. According to our tests and a partner's case (you will find the stats below) BackButton can save you 3-4% of your traffic. Say, you spend up to $10k for traffic in a month, whereas 3-4% is $300-$400 you lose.
In a word, users intending to leave your website would bring you 0 money without Back Button, while this feature changes the game.
The best thing about BackButton - you stop losing traffic and money. Here is how to activate this feature: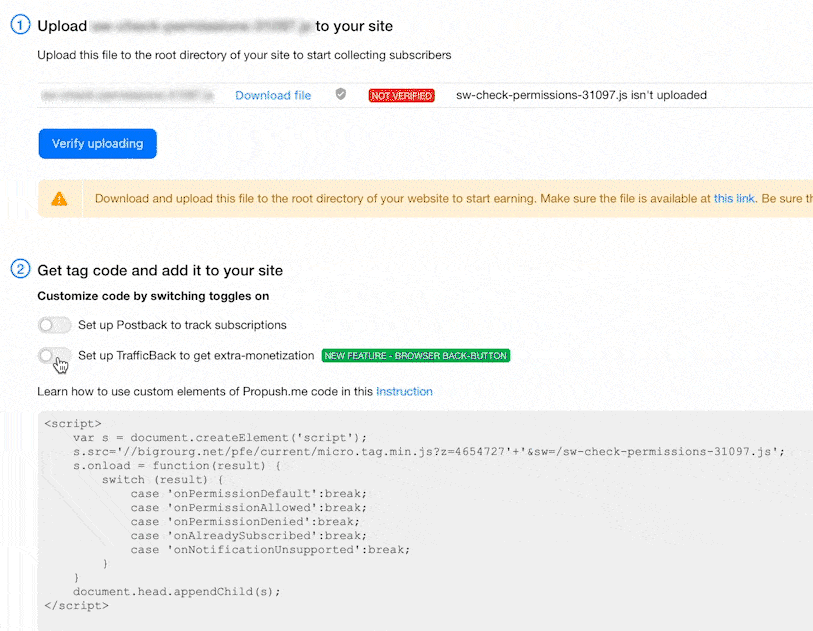 ---
The basics: What is a Back Button feature?
You must have heard of our Traffic Back feature before. This one was designed to help you monetize more traffic, while covering different scenarios, including undesired ones:
A user has subscribed to notifications before
A user blocks an opt-in request, closes it, or swipes away
A user comes from an unsupported platform
And…
A user presses a back button in a browser
So, basically, Back Button is one of the TrafficBack tools. Previously, it was available upon request only, but now all of you can benefit from it!
---
Why use the Back Button?
Back Button feature covers one of the most frequent TrafficBack scenarios, namely the one when your potential subscriber presses this button:

According to our tests and our partners' experience, Back Button is great for everyone, but specifically - for affiliate marketers who have websites designed to collect push subscribers and strive for additional income.
And here is why.
Three out of four TrafficBack scenarios are about redirects, which means that they take users away from your offer page and transfer them to another offer - the most relevant one from the ProPush system.
Back Button is different - it doesn't redirect users and they continue interacting with your offer. This way, you get the second chance to monetize users who decided to leave.
---
Back Button in real case
As a proof of BackButton efficiency, we decided to share the results of our partner's test. Some details:
GEOs: PH, ID
Format: Onclick
Platform: Android, mobile
Browser: Google Chrome
Our partner has the kind of a website we mentioned above - the one to collect subscribers, namely people see the push opt-in request after they open the page.
He enabled all possible TrafficBack scenarios for this campaign: already-subscribed users, blocked/closed/swiped away opt-in, unsupported platform, and back button in a browser, of course.
One of the tests showed that out of 93.716 impressions, 2.946 were ensured by Back Button, which made 3,14% of all traffic. And in general, all of the customer's samelike tests showed 3-4% of traffic saved by Back Button.
Again, these 3-4% are users who were willing to leave the page using the back button in their browser, which means they wouldn't bring our partner any income if he didn't have Back Button activated. So… why losing your money?
Expand your income opportunities with ProPush and namely - Back Button feature!