However, it's always a good idea to stay on the safe side and check the performance of your traffic to ensure you're getting the best results. It works both for your existing and new sources — so it makes sense to take care of both.
But how can you do it?
This is exactly what this article is all about. And, there's no better team to put together a traffic source optimization guide than ProPush experts.
Let's go over the steps you need to follow to optimize your traffic sources and get the most from them.
---
Why Do You Need to Track Traffic Sources?
It's important to track and categorize traffic sources because it can help boost your extra monetization efforts. How exactly?
When you use ProPush, the advanced algorithms evaluate a wide range of factors to ensure the best possible outcome. These algorithms work much better if they can analyze separate zones and optimize each instead of all traffic sources at once.
When you categorize traffic sources, ProPush analyzes every zone in your source and selects optimal ad feeds for each one. This way, your subscribers receive the most relevant push notifications — and are more likely to click and convert. As a result, you will enjoy bigger conversion rates and profits from your extra monetization efforts.
Overall, a zone is a set of different sources, grouped according to their quality. ProPush system is based on quality metrics of every zone, so a zone with the best traffic quality will receive the most profitable ad feed.
---
When Do You Need to Track Traffic Sources?
It's essential to track your traffic sources in three scenarios.
You added a new traffic source, but you're not certain that all the traffic from it fully meets your quality criteria. For example, it might happen when you work with a single trusted ad platform, take particular traffic sources from it, and decide to add a new one. You don't know for sure if this source is good enough, or started working with it and saw some doubtful stats that keep you a bit unsure.
You added a new landing page and want to separate several traffic sources for it — for the reasons we just mentioned above.
You want to test extra monetization features like TrafficBack. There are several TrafficBack events you can choose from at ProPush. If you create separate zones for each event, the one with the best traffic quality will receive the most relevant ad feed.
---
How to Track Traffic Sources
Whenever you add a new landing page to ProPush, you can attach tags to it. Every tag belongs to a specific traffic zone, in other words, a specific placement on your site. You can choose any zone for your tag.
To add a tag, enter the My Sites tab at your ProPush account, then choose your landing page, and press the Create Smart Tag button. It will create a tag with a zone number inside.
This is how it will look:

Now, using tags, you can separate traffic sources by zones. You can do it directly through your ProPush account using the SourceID parameter.
Here are step-by-step instructions.
1. Note the Source ID of your tag in your account:

2. Then, go to your dashboard and find the corresponding field. Toggle the "Set up Postback to track subscription" setting to on.

3. Input the SourceID in the right field:

4. Verify the JavaScript tag has been changed accordingly:

5. Finally, review your statistics on your dashboard — this is how it will look when you separate your sources by zones. Now, your traffic sources are organized and sorted out, giving you an opportunity to track each separately:

---
Ready to Make the Most Out of Your New Traffic Sources?
ProPush is a great resource if you want to boost your monetization efforts without adding a huge amount of work to your daily routine.
Get in touch with the ProPush team if you want to learn more or test out our platform to see your revenue grow today!
However, our settings also allow you to send the first push notification after a certain time — not right away after a subscription.
When is this setting necessary, and what does it change?
---
Delayed First Push: Use Case
Basically, ProPush was created for:
Publishers and website owners who want to monetize their website traffic
Affiliates and media buyers who create special landing pages for push collection and earning with ProPush
Affiliates and media buyers who decided to get extra monetization from their main offers
The last group is actually the one that needs delayed push notifications most of all — and actively tests and uses it on their landing pages.
While the first two groups can easily go with the following flow: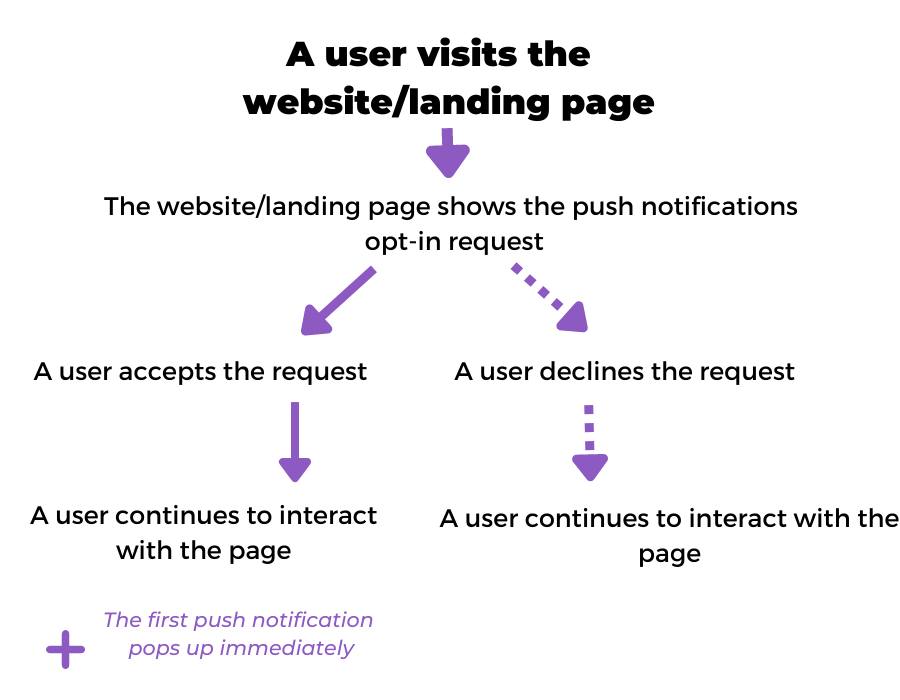 Our partners who care about the offers' conversions often prefer this one, with the first push delayed:

---
Why is a Delayed Push Important?

When your main aim is to make your affiliate marketing offer convert, you want to keep your CR as high as possible. And ProPush allows you to do so: it almost never affects your offer, with only a slight CR decrease of 1%-2% sometimes.
Still, some affiliate marketers don't want to see their CR falling down even this little. And to avoid it, we always suggest making a delay before your users see the first push.
It usually works out: users have enough time to interact with your main offer and convert before the first push notification may distract them.
Here is an example: one of our partners, an owner of the Utility app, wanted users to download his app first and also get some extra profit from push notifications. After he set ProPush Smart Tag, he noticed that the offer CR became about 3% lower than before.
The delayed first push fixed the issue: as a result, our partner got almost 2 mln conversions for his app and also earned more than 12k from ProPush.
Some affiliate marketers, however, work with a delayed first push from the very beginning. For example, this partner who set a delay immediately has never seen his CR falling down.
Here are his regular stats, if you were curious:

---
How to Set a Delayed First Push?
To set a delayed push notification, please, contact us at support@propush.me. This setting is only available via a manager and is not in your dashboard.
If you want to test a particular delay time, please, let us know — or we will give you recommendations depending on your case.
However, our tests show that the optimal delay time is one hour after subscription.
After you set your first push with a delay, you might see a decrease in your First Impression rates. However, it won't significantly affect your overall earnings.
---
As you see, ProPush does its best to meet your needs, whatever goals you have. So, you don't risk anything if you try it out!
That is why, we decided to prepare a guide about two models we have at ProPush - CPS and RevShare - and help you cover all the gaps in your understanding.
What is the difference? How do they work and which one to choose? What are the pros and cons of each? For dessert, we have some stats to see how CPS and RevShare work in practice.
---
What is CPS?
CPS (Cost per Subscriber) is a very simple payment model. The principle is as follows:
Users subscribe to push notifications > you get money for each new user
In this model, you get money for each subscribed person once after they accept the opt-in request. So, one unique subscriber on your website or landing - one payment.
To check the prices for each GEO, just go to your dashboard and open the Rates tab on the left.

Please note that this model is not available for newcomers - you can only use it after rolling your offer for a while.
At ProPush.me, you can apply for CPS if you gather 5000+ subscriptions daily during at least 3-5 days. After you achieve this, we evaluate your traffic quality and open access to a CPS model if your traffic meets our quality standards.
Why so?
You need an advanced set up guided by a personal manager to get maximum profit. However, with small traffic volumes it is almost impossible to get precise statistics - the data amount is just not enough. That is why CPS is an advanced option at ProPush.
Pros:
You get paid fast - no need to wait;
You can quickly recapture the purchased traffic and know how much money you get for subscribers. This way, you can effectively evaluate and plan your budget.
Cons:
Not available for fresh users;
We pay for one-time subscription only, further user activity is not paid;
We pay for unique subscriptions only.
---
What is RevShare?
RevShare (Revenue Share) is efficient in the long run:
Users subscribe > users interact with your offer or just stay subscribed > you get paid during all of their subscription time
In RevShare, your income depends on the quality of your leads, and you continue getting money until they unsubscribe. RevShare rewards patient affiliates - you get income regularly and constantly.
At ProPush.me, we pay for every 1000 push notifications delivered to subscribers you brought. We expect that your subscribers will stay, and this will bring you money. Yes, all you need is to grow your base, engage people, and keep them subscribed.
Pros:
Stable passive income on a regular basis from every subscriber you get;
People rarely unsubscribe, so you may get your money for a pretty long period;
Even non-unique subscribers (those already in our base) are paid and continue bringing money;
Your profit increases with the growing subscriber base and mostly depends on you.
Cons:
You should wait for a while before seeing the first results;
It's hard to estimate your returns, and you need to invent profit evaluation schemes yourself;
Customer LTV (lifetime value) is also hard to estimate - each brings you a different amount of money.
---
Can you change/combine CPS and RevShare?
So, you might be thinking how much freedom you have with the pricing models we offer. We answer - you have absolute freedom! You can work with CPS only, RevShare only, or combine both - everything depends on your expectations and income goals.
For example, if you are ready to wait for a while until you start getting income (sometimes, it takes a couple of months), you can rely on RevShare. However, if you want money here and now - CPS is a better choice.
Combining these models is also an option. Say, you can get immediate money on CPS, which might work as a safety pillow and an additional source of further investments in RevShare. You can invent any income strategy and we don't restrict your experiments.
---
CPS and RevShare practically: cases of use
To make things maximally clear, we have prepared some statistics for a dessert. See how the stats look with RevShare:

And with CPS:

As you can see, both models are equally efficient and profitable, so choosing between RevShare and CPS is an easy thing - mistakes are impossible. Technically, you never lose anything, no matter which one you choose. What is more - you can work with both. Rely on your needs, expectations, and budget flexibility!
Still, you need to prepare for your monetization — and choosing the right hosting is one of the important steps. Why does it matter so much and how to arrange it all wisely?

Let's straighten it out.
---
Why is Hosting Important?
Even the best landing page won't help you earn money if it takes forever to open it. And what if it stops loading at all? The same is true for publishers who are striving to monetize their websites.
These are the issues you can easily avoid if you pick the right hosting provider. Hosting is responsible for your website or landing page's quick and stable work — it's like a house footing.
A hosting server you use for your site or page must be capable to manage all incoming traffic, and all user requests — 24/7. Any mistakes, delays, or activity breaks may result in losing users: they will barely visit your page again to check if you fixed the issues.
Imagine how much converting traffic you can lose with an error like this?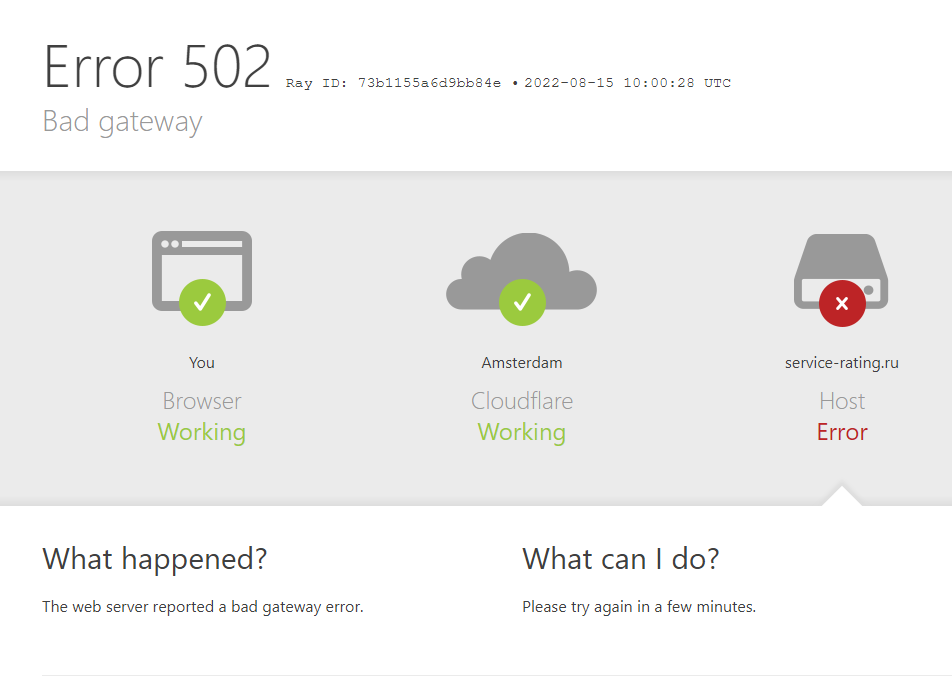 So how to find the provider you can trust and shall you pay for it?
---
Free or Paid Hosting?
There are several types of hostings — we'll look at them in detail a bit later. For now, let's speak about the two largest groups: free and paid hostings.
We know it's tempting to save money, especially when you, say, run a very expensive advertising campaign. However, we don't recommend you save exactly on hosting.
What's the difference between a paid and a free provider? Look at the table:
Free Hosting
Paid Hosting
-Has many content restrictions
-Can be heavily packed with ads
-Works much faster than the free hosting
-Doesn't contain ads
Let us explain it a bit. Maintaining a hosting server for rent is a pretty expensive business. Here is what a hosting provider shall have:
Efficient hardware for hosting a site (RAM, CPU, hard drives, a physical server)
Special software that ensures a stable work of all hosting systems
Malware protection software
Maintenance staff
Stable Internet connection capable of managing large volumes of traffic
So, as you can guess, it all costs significant amounts of money. Too significant to do it for charity! This is why all free providers show their ads on pages located at their hostings.
Will your pre-lander for collecting subscribers be really efficient if it's already full of banners? Will your website stay so user-friendly with a great deal of ads you can't control?
Besides, a free hosting service will never provide you with such stable and quick work as a paid one can. What is more, you can't host just any site on a free server: many of them block eCommerce shops, or sales landing pages.
And, by the way, you are not guaranteed that the free hosting service doesn't have any hidden fees.
This is why ProPush.me accepts websites and landing pages located only on paid hostings. No exceptions!
---
Choosing a Hosting Type
Okay, you are ready to pay for a server, but it's still unclear which one to choose. We won't consider literally all hosting types here: just the ones that will best suit your needs as a website owner or an affiliate marketer.
---
Dedicated Hosting
As the name suggests, dedicated hosting will serve exclusively your website. In simple words, it means you rent a special place for your site and will never share it with anyone else — just like if you rented a house.
Obviously, it's the most reliable way to ensure quick work and manage large volumes of traffic. Still, you don't really need it that much if you are an affiliate marketer with a pretty simple landing page.
Best for: complicated enterprise-size websites with huge traffic volumes
Costs from: ~ $100/per month
---
Web (Shared) Hosting
Another type is the opposite: you share the hosting with the other website owners. Getting back to simple terms, it's like renting a space in a shopping mall.
Such hosting has particular limitations but will be enough if you have a plain site or a landing page that doesn't require many resources. It can easily handle about 3k visitors per day.
Best for: small and medium-sized websites, blogs, landing pages for affiliate marketing
Costs from: ~$3 per month
---
VPS Hosting
VPS, or a Virtual Private Server, is something in between Shared and Dedicated hosting.
In a nutshell, it's also shared hosting, but you have a special private space here — like a fence that protects you from a sudden neighbor's visit. The other websites using the same server won't interfere with your processes like they can at shared hosting, and usually allows bigger traffic volumes and higher loading speeds.
Best for: medium-sized websites, landing pages for affiliate marketing with a larger volume of traffic
Costs from: ~$5 per month
---
Choosing a Hosting Location
You can rent a hosting anywhere — but choose the location wisely.
Suppose you want to run traffic from Brazil, but your server is physically located somewhere in Germany. It will take more time to load your site in this case, so the closer your server is to your users, the quicker your site or landing page will work.
You have two ways of how to deal with a hosting location:
Choose a hosting in the same GEO you are targeting. So, if you need to attract Brazilian users, host your landing in Brazil, that's it.
Use a Content Delivery Network (CDN). We won't go deep into the technical details — you just need to know that a CDN is a network that speeds up the process of content delivery. For instance, your website or landing page content. With a CDN, your hosting can be located anywhere.
---
Top Hosting Servers To Consider
So, as you know your needs, finding the right hosting is not a trouble anymore. But probably you wanted some more straightforward recommendations? Okay, we got them!
Just a little bit more of a theory to sum up — what to look at when choosing a hosting?
The right server type that will meet your specific needs
A choice of geo-locations of the hosting or an opportunity to use a CDN
Moderate reasonable price
Good reputation and customer trust
Top-notch customer service
And what are the best web hosting companies that can ensure it all? We gathered the top-three popular hosting providers according to the HostAdvice research — and the opinions of our partners.
---
GoDaddy
GoDaddy is one of the top popular hosting providers — it serves 16% of all existing websites. It offers three hosting types:
Shared Hosting: from €2,99/month
VPS Hosting: from €4,99/month
Dedicated Hosting: from €99,99/month
Although GoDaddy doesn't offer you any free trial periods, you can claim a refund after the first 30 days. Another advantage is that you can select your hosting location: USA, Europe, or Asia.
---
Bluehost
Bluehost also has many positive reviews and has established itself as one of the top-recommended hosting providers. It offers the same hosting options as GoDaddy but has a whopping eight pricing plans for the shared type.
Shared Hosting: from €2,69/month
VPS Hosting: from €18.57/month
Dedicated Hosting: from €78.23/month
What is great about Bluehost, all of its pricing plans include free usage of the Cloudflare CDN, so you won't have issues with your hosting location.
---
Ionos
Ionos claims to be the best hosting provider to react to traffic spikes, with a loading page speed of 1.23 seconds. It also has various pricing plans and a free month for new customers.
Shared Hosting: from $3/month
VPS Hosting: from $2/month
Dedicated Hosting: from $45/month
---
We think things got much clearer now, right? Once you choose a suitable hosting provider, it will do its work smoothly — with no distraction from website mistakes.
Or you have everything ready? Why wait then —