Why did we find this Follow-Along Contest case study exciting, although the final profit was not that impressively big? Because it vividly shows that ProPush.me works fine even if you have low volumes of traffic, and literally everyone can get their piece of the pie.
And don't forget to visit the Afflift forum, follow the threads, and share your own insights!
---
About the Campaign
Viccarterann told us that his campaigns hadn't been really successful lately. He thought that his main issue was that he picked the wrong offers. So he was determined to concentrate on the PropellerAds network as a very high-quality traffic source and do his best to find suitable converting offers. Here is an overview of his campaigns:
Traffic Source: PropellerAds
Tracking Tool: BeMob
Affiliate Network: Golden Goose, Zeydoo.
Type of Offer: Various, including Sweepstakes, Fin Surveys, and Mobile App Downloads
Offer Payout: From $0.12 to $1.5
Traffic Type: Popunder
Again, his main aim was to find a profitable offer that would convert easily. We mean, he didn't intend to spend much time on extra monetization — and luckily, he didn't have to! All that Viccarterann needed was to add a Smart Tag from ProPush.me to this landing page — and don't think about it again.
Thanks to his previous experience, he was pretty sure in this step: here is what he said:
— In the last few weeks, I have not sent any traffic to my landing pages, but Propush continued to generate money! Just look at the stats:

---
Settings
Viccarterann willingly shared his checklist for setting up campaigns — including extra monetization tools.
Here it is:
Ask your CPA Network Account Manager about the best offers and TOP GEOs for them
Go to a Spy tool for inspiration (for example, a free and easy Spypop)
Set up your landing pages (adjust text, images, CTA buttons, languages, etc.). Make at least 3 versions for testing. Once you get the first data, create the improved versions of the best-performing landing pages.
Put the BackButton and ProPush scripts
Upload them to the server
Check that everything is set up correctly
Launch the campaigns
---
Campaign Flow
Viccarterann tried various approaches towards his PropellerAds campaigns. He spoke to his account managers in CPA networks to get the best offers, tried targeting different GEOs, and tested various landing pages — but not that it all worked out. For example, here are his stats with the three new GEOs he decided to test after the other campaigns failed:

As Viccarterann supposed, the reason might be very high competition for the chosen offers. He didn't blame ProPush.me for it, as the similar campaigns without a ProPush Tag on the landing pages had more or less the same flow. And, what is more, unlike the main offers, ProPush.me did bring some profit:

Not bad for not doing anything — this was Viccarterrann's verdict on his ProPush.me stats.
However, he needed to start getting profit from his main offers, too — and this time, he decided to change CPA Goal to SmartCPM. It caused a pretty large click loss, but finally highlighted an offer that had potential:

Despite the negative ROI, this offer had the chance to show green numbers later. To optimize it, Viccarterran did the creatives' A/B testing, deleted the worst converting zones with the biggest spending, and changed targeting settings to work only with the Chrome browser.
It didn't change things much, so he decided to add one more campaign (the one with the -79% ROI on the screenshot above), and combine both campaigns with a CPA Goal model. To do it, he requested the report from the Bemob tracker (it's a nice feature, try it for your projects, too!) and got detailed information on each campaign:

Now, having more accurate data on hand, he created a new campaign — a combination of the previous two:

Besides, he added a special Backbutton campaign:

It helped! As you see, the numbers finally became green, and the ROI has extremely boosted up to more than 100%. If there was more traffic, the profits would have been much more exciting, but anyway — it works!
ProPush.me Tag was still active, meanwhile. Again, it did its job perfectly — and only the small traffic volumes prevented Viccarterran from earning much larger amounts:

As Viccarterann said himself, 'Not a big deal — but it's free money!'.
---
Campaign Results
The two final campaigns kept bringing small but stable profits, with positive ROI and net profits.

So did ProPush:

It turned out that you can install a ProPush Smart Tag once — and earn $1 per day doing nothing else with it. As you see, even the small traffic volumes on the main offer can result in some additional revenue from ProPush.me — so we are not just for high-rollers.
Overall, within a month, Viccarterann got almost $20 of 'free money', as he calls them himself.
---
To Sum Up
So, Viccarterann put the ProPush Smart Tag on all landing pages he used and kept getting subscribers. The more traffic he sent, the more subscribers he got — and nothing changed in the main offers' flow. He also noticed that when the CTR of his campaigns rose, his ProPush CR percentage also increased — and it was evident even with relatively small earnings.
The best thing Viccarterann found in ProPush is that he didn't have to do anything special to increase the subscription rates — and he will keep using ProPush for his future campaigns.
Want to try such a lazy monetization?
Today, we will share a case study from one of the Follow-Along contest winners — Desha. His primary aim was to profit from several mobile gaming campaigns, so he was mainly focused on creating and optimizing them. 
At the same time, he used ProPush.me for extra monetization — just added the Smart Tag, and that's it. This very simple move turned out to bring a whopping 24% of the whole traffic spending without any further actions — so let's see how it all worked.
And, don't forget to visit the Afflift Forum — there are plenty of useful threads!
---
Campaign Information
Desha didn't want to stick to a single offer. Instead, he decided to choose several of them — but all were mobile games with a free trial period. Here is information about his campaigns:
Traffic Source: PropellerAds
Tracking Tool: Bemob
Affiliate Network: Monetizer
Type of Offer: Mobile Gaming
GEOs: TH, BH, IQ, QA, SA, TH, EG
Dates: 19/05-20/06/2022
To work with the offers, Desha needed to create a pre-lander. He looked through various spy tools and found the most suitable creative. After editing this pre-lander for his campaigns, Desha made two additional adjustments:
Installed a ProPush.me Smart Tag. Now the pre-lander could send requests to subscribe to push notifications and bring Desha extra profit from his subscribers.
Added a BackButton script. Users who clicked the Back button on Desha's pre-lander were redirected to another offer — instead of really getting back to the previous page.
At first, Desha decided to work only with TH GEO — and test other GEOs later.
So, everything was ready. Desha created three campaigns for the offers at PropellerAds to ensure the best targeting — and the game started.
---
Campaign Flow: Days 1-10
The first results of the main offer flow were pretty good — all, except for the campaign targeting Wi-Fi users. Desha switched it off and optimized the rest of the campaigns — but it was only the first day, and it was too early to make any conclusions about them.


Meanwhile, ProPush.me was doing its thing in the background, without interfering with the main offer flow. Within only a single day, Desha got $13 from ProPush.me — and didn't even do anything for it — just installed a Smart Tag from the very beginning.

Desha continued to optimize his efforts: split campaigns, and added new ones — but they still haven't brought significant profit yet. Within the two next days, he spent $124 and got revenue of only $113 — an apparently negative net profit:

However, when Desha checked his ProPush.me stats, he was pleased to see that his last days WERE profitable after all: with $27 from ProPush.me, he now had an overall profit of $16.

The next two days became more successful for the main offer:

The campaigns started bringing a pretty stable profit, while ProPush.me just kept working — and required no effort to bring regular additional income:

In fact, ProPush.me brought even a bit more than the main offers: Desha's profit for the last two days was $43,8 from PropellerAds and $44 from ProPush.
To make a long story short, the first 10 days of working with PropellerAds and ProPush.me simultaneously brought very impressive results. Here are the stats from PropellerAds:

And here are the results from ProPush:

And the Backbutton script brought some profit, too:

So, the first 10 days of running campaigns with lazy extra monetization from ProPush.me brought $121 (main offers) + $84 (ProPush.me) + $6 (Backbutton Script) = $211.
---
Campaign Flow: Days 11-30
Later, Desha chose more offers in the mobile gaming vertical and used them with the same pre-lander. He just translated the pre-lander to Arabic as he wanted to test more GEOs. He created four more campaigns for QA, IQ, and SA. Here are his first results with the new campaigns:

Meanwhile, his TH offers remained active. He kept optimizing them to make the offers convert better, and they gained traction:

The ProPush.me Smart Tag, installed for all his offers, gave regular profit — and covered a significant part of traffic cost.

Thus, Desha's total profit from day 11 to day 17 was $212. He'd spent $400 on traffic purchase so far and got $101 from ProPush — as much as the profit from the main offers.
What is important, the ProPush.me Smart Tag did not affect anything in the main offers flow. The CRs remained good, and both subscribed and unsubscribed users could interact with the offer without any issues.
Later, Desha added more GEOs and campaigns to see what happens. It worked out, especially for the IQ GEO — and his profit for Days 11-17 made almost $260.

And, ProPush.me brought almost 50% to the whole profit:

The Backbutton script also added a bit to the overall earnings — an extra $15.
---
Final Results
So, throughout the whole month, Desha was busy adding new campaigns, optimizing them, and testing various mobile gaming offers and GEOs. He shared his results including extra monetization for the top profitable GEOs in the table below.

And here are the ProPush.me stats separately:

Desha was very happy with what ProPush.me did for him — no extra effort, 24% of the whole traffic cost — easily!
---
To Sum Up
As we've already mentioned, Desha didn't mean to spend too much effort on ProPush.me. It was just a way to get some more money — but it turned out to be even more profitable than expected. As you see, ProPush.me managed to rescue some failed campaigns and cover the losses when the main offers did not convert so well.
As Desha told us, he continues working with his campaigns. And ProPush.me keeps bringing him extra income!
As a result, Desha started considering ProPush.me as not only a lazy extra monetization tool. He decided to run special campaigns for ProPush.me as he became 100% sure that it works, doesn't ruin the offer CR, and doesn't require much effort.
We wish Desha good luck — and look forward to seeing you with us, too.
Still, some of our partners become a bit confused about how much and how often we pay. No worries — we'll share all details in this payments guide right now.
---
Revshare vs. CPS
If you are already familiar with ProPush, you know that we have two payment models: RevShare and CPS. What's the difference and what to choose?
CPS, or the Cost per Subscriber. It's very straightforward: a user subscribes to push notifications on your landing page, we pay! How much? Here are our current CPS rates per 1000 subscribers: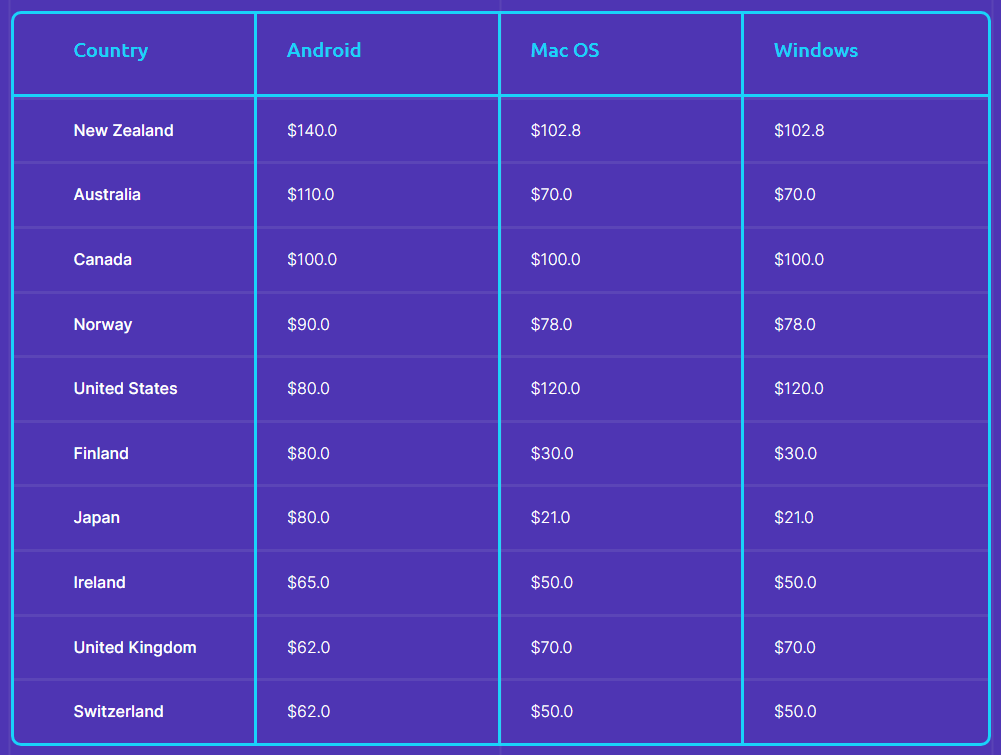 These rates can change, but you can check the actual ones in your Dashboard under the Rates tab.
The main advantage of this model is that you get a subscriber and don't care about what will happen to them next — you get paid once and that's it. Note, that this model is not available for the newly-joined partners — in the beginning, you can only work upon RevShare.
RevShare. In this model, we pay for notifications delivered to your subscribers. So, a user subscribes to your website or landing page, we send them notifications, they interact with them — and you get your profit! We work based on RevShare with all of our new partners, but you can switch to CPS later.
This model is perfect for those who have large volumes of high-quality traffic. Although you might need to wait a bit before you get your first earnings, it pays off pretty quickly and brings significant profits.
---
How Do I Know How Much I Earned with ProPush?
We have two kinds of stats that show your earnings. The first one allows you to check your daily profit: just enter the Earnings tab on your dashboard: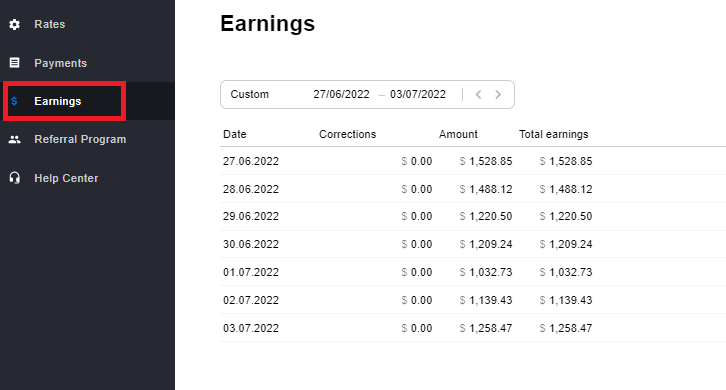 And what if you need to know the whole amount for a particular period of time? It's available under the Statistics tab. Just select the dates you want to check, and you'll see your total profit:

---
When Can I Withdraw My Earnings?
Our payout rules are very simple. They are the same for both Revshare and CPS partners, and there's only a slight difference for the newly-joined partners.
We automatically send your earnings for the whole previous week to your default payment method on Thursdays.
Let's look at the example to make things easier. For instance, you sent your traffic to a landing page with a ProPush tag from Monday, June 27 until Sunday, July 3. You earned $8877. You will withdraw this exact amount next Thursday, July 7 — after a four-day period of hold.
Suppose you continued to send traffic after July 3 and earned some more with ProPush. It added more profit to your overall earnings.
So, at the moment of withdrawal on July 7, you have, say, already $14990, not $8877 on your account.
However, you can only withdraw the funds earned during the previous week. Your payment schedule will look like this:
Dates
Your profit
Amount to be paid on Thursday, July 7
Amount on hold until next payday on Thursday, July 14
June 27 - July 7
$14990
$8877
(Earned June 27 — July 3)
$6113
Note that your balance in the right upper corner shows ALL your earnings — including what you can already withdraw and what will be held until next Thursday.
Let it not confuse you — and check the earnings in the Statistics dashboard exactly for the previous week.
An important note for those who just joined ProPush: we make the first payout after 14 days of your work.
To be more precise, this first payout happens on the first Thursday after two weeks pass. For example, you have collected subscribers for 14 days, and this 14-day period is over on Monday. You will need to allow up to three more days — and your payout will arrive on Thursday.
---
What are the Payment Options?
We do our best to provide you with a wide range of convenient methods for quick withdrawals — and here is what we have for now:

Mind the minimum payout amounts and fees:
Payment method
Minimum withdrawal
Fees
All but the bank transfer
$100
None
Bank Transfer
$500
$50 for payouts less than $1000
Free, if you withdraw $1000 or more.
Didn't find the best suitable payment method? You are welcome to suggest yours, and we'll see if we can add it in the future.
---
Can Anything Go Wrong?
Basically, no — our smart system works without bugs and errors and counts all earnings correctly. The only thing that can happen is issues with your traffic. All of you can face low-quality traffic providers or just bad sources — and accidentally send some fraud or bot traffic to ProPush.
In such cases, we always speak to a partner personally, discuss the issue — and sometimes claim a refund. However, it's not a commonplace situation for us, and you provide us with high-quality traffic, you have nothing to worry about!
---
To Sum Up
We hope this guide helped you to work with ProPush more effectively and have a better understanding of your earnings. You can always contact our customer support team at support@propush.me or your personal manager if you have any questions left. And if you haven't joined us yet — you are welcome to do it now!