Nothing too complicated — we just need to make sure you are the real owner of this landing page or a site, and that's it. In fact, we don't even do it manually: the process is automated and thus pretty quick.
But what if you had some issues?
---
Possible Pitfalls With Your Verification: The Fullest List
We spoke to our customer support managers and found out all possible cases when your landing page or a website might not pass this verification.
Haven't found your problem in this post?
It's pretty unlikely, but we are here to help: you can always contact us at support@propush.me.
So, what are the possible issues?
---
Your Site Doesn't Meet ProPush Terms
So you did everything correctly, but your verification request was denied. Before you start looking for a mistake in some advanced settings, check if your site or landing page meets our requirements.
They are very simple, so here is a checklist:
Your website or landing page must use HTTPS in its domain name. ProPush.me doesn't accept websites with HTTP protocols.
Your site must have access to the root catalog. Otherwise, you won't be able to install sw.js file there, so why approve such a website/page?
You must use a paid domain. No free domains from landing page constructors are accepted.
We check what your site is about, too. Besides verification, you pass through moderation, so mind the terms! For example, you can't work with ProPush if your site is related to adult or software pirating content. You can read the full terms and our requirements for websites and landing page content here.
---
You Made a Mistake in Verification Process
ProPush suggests two ways how to verify that you own your website or landing page:
Option 1 (Recommended). Add your website URL to a special field in your account, and copy a verification code that you will find below. Copy this code, and go to your site's source code.
You need to place the code between the <head> and </head> tags. A very common mistake is the wrong code placement — so here is an example of how it should look when you did things right:
Option 2. We consider this one as an alternative — and, by the way, it usually causes more mistakes than code verification. So, here you need to download a verification HTML file and add it to your site's root directory. 

Nothing difficult, but here are two very important nuances that can spoil the whole deal:
You need to download the file and install it using the same device and browser.
If you use a CDN, like CloudFlare, don't forget to switch it off until the verification process is over.
---
To Sum Up
Sometimes, in very rare cases, there might be a technical issue on the ProPush side. In this case, we will check if you did everything correctly, and verify your source manually.
Oh, yes you can!
---
What's happening with social media?
So, let's uncover some background. Social traffic refers to traffic that comes to your website or landing page from social media platforms. Say, users who click a Facebook or Instagram post and get to your website/landing are perceived as social media traffic.
And this is a massive flow. The global digital population grows, so does the amount of social media users. People actively use Facebook, Instagram, and Tik-Tok to socialize, date, read news, have fun, do business, and simply talk to each other online.
Here is how the growth of social media looks on the graph based on the Statista research:

As such, social media looks like a fruitful environment to get more leads! If you are using this traffic source already, then you must be wondering if ProPush can help you get more income. Yes, we can!
---
How does it work?
As we know from our advertisers' experience - you totally should try combining social networks and push notifications. A lot of our partners claim that social media traffic is profitable and WhatsUp or Facebook users eagerly click ad links when they see relevant offers.
Social traffic has some peculiarities, one of which is a necessity to set things smartly before you start and make sure to plan your flow correctly. There are numerous ways to do that and we have no one-size-fits-all recipe for you, but we can reveal some important points to keep in mind:
You cannot send an opt-in request for push notifications via Facebook browser or WhatsUp;
You need to transfer your users from Facebook browser or other social platform to Chrome browser;
You need a pre-lander as a pad between Facebook and your landing/website.
Basically, after your user gets to the offer page, everything happens as usual - just the same as with any other traffic type. Visitors receive an opt-in request, decide whether they want to get notifications, and continue interacting with your offer with no obstacles. And you, as always, get extra-money from ProPush.
---
Any examples?
One of our partners works this way:
He sends pop traffic to his pre-lander in Facebook browser;
Traffic from pre-lander is redirected to his offer in Google Chrome browser;
Users see a landing page with product presentation:

Our partner has a Smart Tag installed right on this landing page. When users open the page, they also see a small opt-in window on the top:

And you know what happens next, right? Users allow or block a request, but our partner receives extra-money in both scenarios! Because he uses ProPush, of course.
So, if you work with social media traffic or have a desire to try - don't forget to add ProPush Tag to your landing page or website to make your wallet thicker. Try now!
A little spoiler: ProPush is highly efficient for all verticals, and almost all ad formats, with some exceptions.
But, looking through our partners' stats, we noticed that some verticals are much more popular than others — and they really bring breathtaking results, leaving behind all the rest.
So, we decided to prepare a small rating of the top verticals to monetize with push subscriptions — first, to give you an idea of what offers to pick, and second — to have an excuse to boast our partners' stats.
Here we go!
---
Sweepstakes
Yeah, if you read our blog, you already know: we love posting Sweepstakes case studies because they are so juicy!
It is one of the top popular verticals among our partners — and no wonder why. Let's look at the latest stats from one of our most successful marketers with a Sweepstake offer:

— How to do the same? Watch the ProPush Smart Tag Guide
Tip: Sweepstakes offers work best with Popunder and Push traffic from ad networks. However, we don't recommend using Push traffic for extra monetization with push subscriptions. In short, users might get overdosed with push alerts and stop converting.
---
Utilities (VPNs, to be precise)
You could often come across this one in our blog, too: VPNs are another top profitable vertical for extra monetization with ProPush.
Here are the stats of our partner who loves running Utilities:

Tip: The best bundle for Utilities in affiliate marketing is currently Android + Popunder/Push. Still, again, be careful with Push traffic: it might give significantly worse results than, say, Popunder or social.
---
Gaming
Our research shows that mobile games also bring awesome results, and many of our partners don't want to miss it!
Here is one example:

Yes, the daily profits are not so shockingly high and so ultimately inspiring. But, a small detail made us look at this case study from another angle: this profit made 24% of the overall campaign earnings!
So, if the budget had been bigger, the numbers could have been much more impressive, too.
Note: While you need to work hard on optimizing your affiliate marketing campaigns, ProPush usually works in the background, and rarely requires any extra actions and effort.
---
Any Other Recommendations?
Although we have three unprecedented winners vertical-wise, it doesn't mean you can't profit from the other offers.
The best about ProPush is that it works with almost all offers you can think of, so don't hesitate to add the Tag if you run Dating, iGaming, eCommerce, and more.
As a bonus, we give you a list of the best GEOs for push subscription monetization, rocking right now: catch'em up!
NZ, AU, US, UG, JP, GN, CA, AO, GB, ZA, AT, DE
However, be careful with the traffic types.
What to avoid:
Adult Traffic - we don't accept it
Push Traffic - it doesn't usually bring the best results
WordPress and ready landing pages from spy tools - Smart Tag won't work with them
Not trying ProPush at all — it may bring results for all verticals
Overall, the list of what we DON'T recommend is extremely short. And the options you have for extra monetization are almost endless.
ProPush can easily become a separate source of income — and this is what large media buyers actively use and enjoy. How does it work and what does it have to do with TrafficBack?
Let's find out right now.
---
What is TrafficBack and How Does It Work
TrafficBack is basically a link that redirects a user to a relevant offer. There are two ways how you can use it:
#1. TrafficBack for monetizing as many users as possible.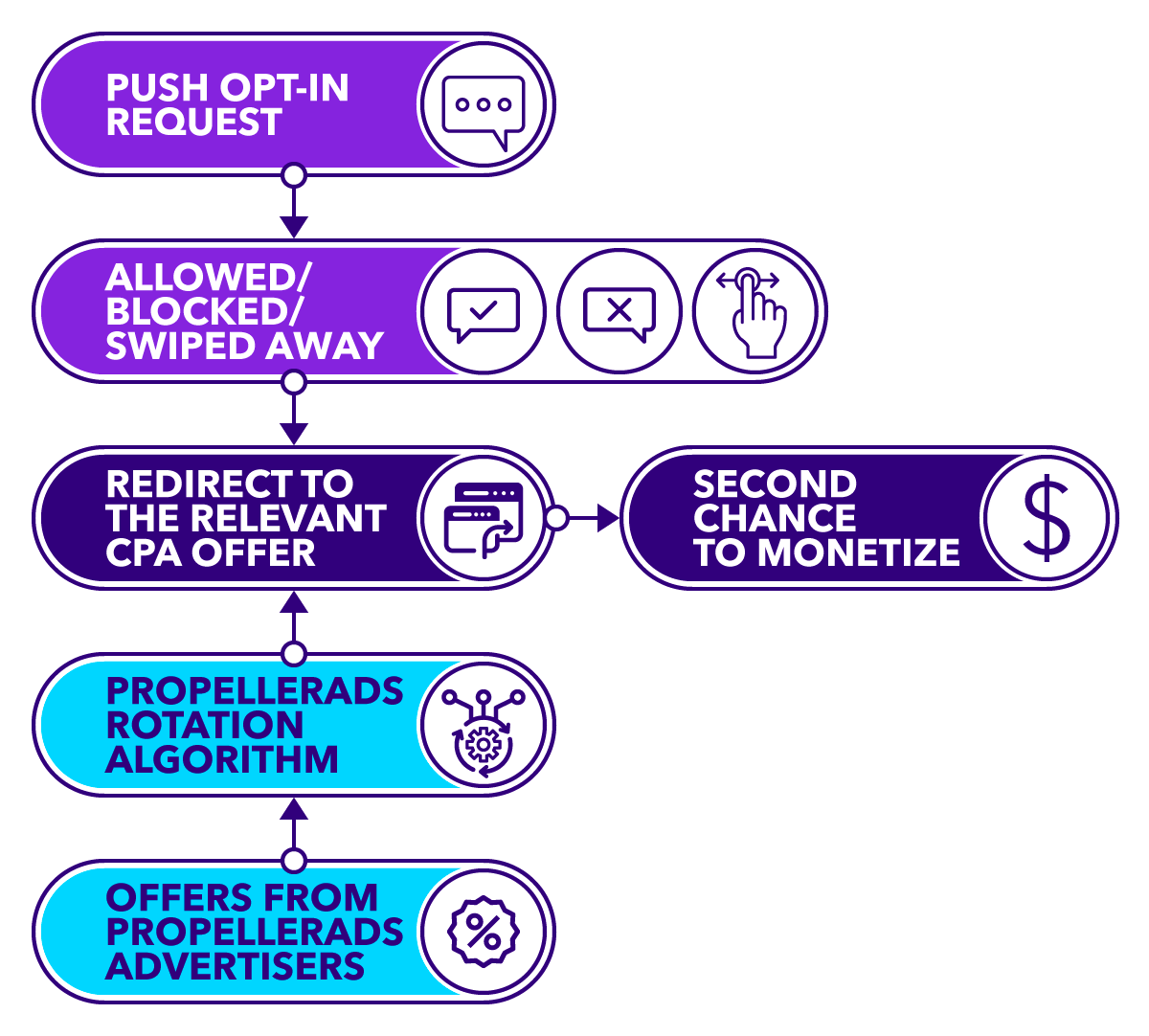 In this case, a redirect is triggered by a certain action that a user does on your landing page. To be precise, we'll show all possible scenarios for TrafficBack:
A user subscribes to notifications
A user blocks an opt-in request, closes it, or swipes away
A user presses a Backbutton in your browser
A user comes from an unsupported platform (for example, an iOS user can't subscribe to browser push notifications)
You can add all the scenarios in your TrafficBack settings — or choose a part of them.
#2. Direct TrafficBack Link.

You can use TrafficBack without a landing page — and send your traffic directly to this link. Your users will be redirected to a relevant offer as soon as they follow the link  — no other actions are required.
Direct TrafficBack link from ProPush has higher rates and contains only the top CPA offers with the best and most relevant ads.
Besides, you can add this link to your main offer or use it for a browser Backbutton.
This option is available upon request, so contact our support team (support@propush.me) to get a direct TrafficBack link.
---
How to Apply TrafficBack wisely?
When we are speaking about TrafficBack for large media buyer agencies, we usually imply two points:
There are much bigger volumes of traffic than solo advertisers have. So, users who don't convert mean large expenses, and you must have extra ways of monetizing to cover them
There is usually a separate campaign created exclusively for push collection or a TrafficBack link campaign
Of course, media buyers can use ProPush for extra monetization of their offers, too. Still, most of them prefer separate push collecting campaigns, as their traffic volumes allow them to earn with such campaigns really quickly.
Overall, there are three top profitable strategies that you can apply. We gathered our recommendations with the best practices of our partners from media buying agencies — and will share them right now!
---
Strategy 1: One TrafficBack Link for All Events
It's the simplest one.
First, you create a special landing page for push subscriptions. It doesn't contain any offers and only serves a single goal: collecting subscribers.
One of the most popular push collection landing page types is a page that shows users a video. To watch the video till the end, a user has to accept a push notification opt-in request.
Without TrafficBack, everything is very straightforward. A user either subscribes or not — and that's it. But why lose such large amounts of traffic if a request is declined? Every user that rejected the subscription request can cost really big money — so it makes sense to squeeze the most of your traffic.
And here actually comes the TrafficBack. Added to all available scenarios, it can help minimize expenses and boost profits at the same time.
The settings are simple: create a TrafficBack link in your account and then tick all the events you want to include. You will find detailed instructions on creating and setting TrafficBack in our guide.

And the step-by-step strategy is the following:
You create a landing page for push collection.
You add ProPush Smart Tag and set TrafficBack to all scenarios
You launch a campaign in an ad network to drive traffic to your landing page.
Users subscribe and ProPush pays you for them
Users who close, swipe away, or leave your page are redirected to another offer with the TrafficBack
Will it be profitable? Well, let's just look at the stats: here is the weekly profit of our partners from a large media buying agency who use this strategy as their primary workflow with ProPush:

Pro tip: to make this strategy work, it's essential to find a profitable Ad Network — OS — GEO bundle. It's the most complicated and time-consuming part, but the rest of the workflow is almost automated.
---
Strategy 2: Separate TrafficBack Links
This one is almost the same but a small detail in your settings. You set everything as you did for the previous strategy — but install a separate TrafficBack link to every event. 
How to do it?
Create a TrafficBack link in your account
Select a single event for traffic back in settings
Repeat both steps for the other events
Why would you need it? Such a move might help you better analyze what happens to your traffic in different scenarios. Experienced media buyers prefer to see more accurate stats of monetized traffic, for example:
70% of traffic was monetized with push subscriptions
20% of traffic was monetized with backbutton
5% of traffic was monetized with a blocked opt-in request, etc
Such detailed statistics allow you to understand user behavior and optimize your landing page and its content accordingly.
---
Strategy 3: Getting the Most of Remnant Traffic
If you want to work with TrafficBack separately and send traffic to a TrafficBack link directly, you can safely use remnant traffic.
Here are two options large media buyers usually prefer with a Direct TrafficBack link:
Purchasing remnant traffic from networks
Monetizing remnant traffic from CPA offers
Pro tip: you can add a direct TrafficBack link at the end of your CPA offer flow after a user converts. For example, when you are paid per lead and need to collect email addresses, you can add a TrafficBack link after a user presses the Submit button. This user will be redirected to another offer as soon as they complete the conversion. Besides, you can install this link for Backbutton to monetize users who want to leave your landing page.
---
General Tips
TrafficBack is a powerful tool by design — but you can make it work even better if you know the best practices. Here are the tips we suggest to our partners when working with TrafficBack:
Creatives. If you run a campaign for push collection, pay much attention to creatives. Although TrafficBack will help you to monetize most users who didn't subscribe, your landing page still should be persuasive enough to get subscribers. Test as many creatives as possible before you find the best one!
Traffic Type. The best traffic for collecting subscribers is usually Pop and Redirect. Besides, you can try social and SEO traffic — but we don't recommend using Push.
Browsers. TrafficBack brings the best results with the latest versions of browsers — they are most likely to have real, no-bot users. According to our stats, the best are Google Chrome, Samsung Browser, and UC browser (mainly for Tier 3). Besides, you can try Microsoft Edge, as it can bring you pretty high-paid subscribers if you find a good bundle.
Optimize your TrafficBack links. You can set Postback or add your sub-sources for more accurate tracking and better performance. We described the full workflow in the guide: How to optimize your TrafficBack links.
---
Nothing too difficult, right? If you have any questions left, we are ready to help and explain: just contact our customer support team at support@propush.me.
Once you are done with the settings, you can enjoy profit from TrafficBack almost immediately. Don't miss this chance to monetize as much traffic as possible — and make every user bring you a maximum of income.