That's right, you just set it up on your landing page and get more profit to your campaign without interrupting the main conversion flow. Like, really, no effort and no issues, only simple profit dropping right into your pocket.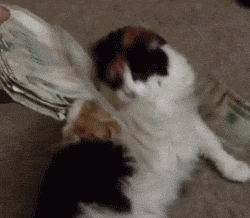 To learn how to start earning additional income with Smart Tag, check this video guide out!
And in this article, we hurry up to answer potential questions you may have about the Smart Tag: which traffic types are the best to choose? What are the recommendations to keep in mind? So, if you are a newcomer or just want to fill the gaps in your understanding of Smart Tag, be welcome to read this blog post!
Everything you wanted to know about traffic types suitable for Smart Tag
We have prepared a pack of questions and answers about traffic types to work with, as well as some efficiency tips and limitations to remember. Generally, this is a small and simple guide you should follow to make your Smart Tag monetization go like clockwork. So…
Which traffic types to consider?
Generally, almost all traffic types are suitable for Smart Tag monetization, so just rely on your own preferences. Our team recommends trying pop, redirect, social, remnant, and banner traffic — they really can do magic and bring you significant returns.
According to our inner tests, the best options here are pop, redirect and social ones, while the only traffic type that is not very compatible with the Tag is email.
Which traffic types show the best results with extra monetization?
Pop traffic seems to be a real champion of additional monetization with Smart Tag. However, to boost your profit you can experiment with all those traffic types we recommended higher.
Are there any limitations regarding traffic types?
We don't recommend you to send push traffic for push subscriptions unless you stick to RevShare pricing model.
Also, please mind that our policy doesn't allow any adult, bot, and proxy traffic.
Any recommendations for beginners?
The main recommendation we have for beginners sounds like this: don't be afraid to experiment with different traffic types. Test and see what works best for you, because chances are that a certain traffic type will be appropriate for your concrete campaign.
Any recommendations for campaign scaling or traffic combinations?
If you combine different types of traffic in your campaign, we recommend sending them to different zones. This way you can estimate how different traffic types perform and which one brings you more profit.
Add sourceid to the corresponding field in the dashboard to start passing the information about your traffic sources to us: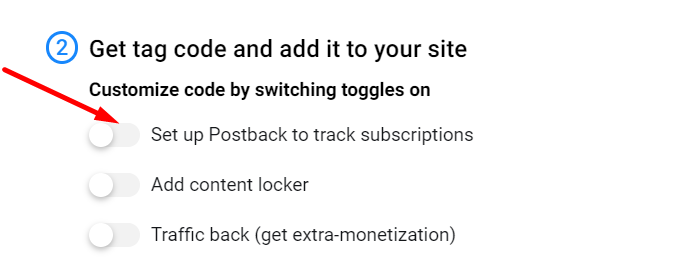 The JS code would be also changed the same way:

Also, we suggest that you should split your traffic regarding sources. Again, this will help you keep everything in order and have a clear idea of what performs better.
With ProPush, you don't need any third-party tracking software to see what is going on with your traffic sources. All the information is available in your dashboard.
Conclusion
So, now you know which traffic types are the best to make additional profit with Smart Tag from ProPush.me. We recommend trying different types of traffic, including win-win options like pop, social, redirect, banner, and remnant. But don't restrict yourself to these recommendations and feel free to explore new options!
If you think that this sounds too good to be true, well, we hasten to let you know - this is exactly what the TrafficBack feature can do. And no significant effort is required. Read on and learn how to boost your income in the easiest way possible.
Briefly about TrafficBack: what's that?
As always, let's start with a short description. In a nutshell, TrafficBack is a link that helps you monetize literally all of your visitors.
With TrafficBack, you can make money no matter which actions your website visitors take. They are redirected to a relevant offer that meets their characteristics (GEO, OS, or platform) in case your initial one didn't evoke enough interest in them. Redirection accuracy is ensured by advanced PropellerAds Rotation Algorithm - it chooses the right offer to display regarding user's data. As such, TrafficBack delivers the most suitable offer and potentially brings about 20% more income to you.
Let's imagine a likely case when TrafficBack can bring you some additional income. Say, you are an advertiser and you work with push subscriptions. Obviously, you get money when a user comes to your landing page and subscribes.
However, this is not something that happens all the time - some users block or swipe opt-in windows away, the others have iOS devices that don't support Push notifications. With the TrafficBack link, you will have a second chance to monetize them and get money even if they don't subscribe.
Traffic types to monetize with TrafficBack
TrafficBack works for numerous traffic types, including:
Pop traffic
Redirect traffic
Pre-landers
Social traffic (WhatsUp, Facebook, etc.)
SEO (search engines traffic)
Remnant (mind that this applies to traffic you didn't manage to sell, not the low-quality or fraud one)
Banner traffic
As you can see, TrafficBack will come in handy in most cases, so whatever traffic type you prefer, it makes sense to keep this feature in mind.
Situations when TrafficBack is exceptionally useful
Let's see how TrafficBack can help you get more cash in specific situations. Here are the most common scenarios when you will find TrafficBack really efficient:
User subscribes or blocks the push subscription form;
User closes the subscription window or swipes it on a mobile device;
User is an active subscriber already;
User comes to your offer from the unsupported target (platform, OS, or browser);
User presses the Back button in his browser window.
As you can see, TrafficBack covers most of the scenarios when users don't perform the target action, namely - subscription.
This way, you can have a second monetization chance and earn with each visitor, even if he skips your initial offer. In a word, you can rest assured that all of your money was invested in traffic smartly - with TrafficBack, no losses are waiting for you.
So, let's say, your visitor blocks the subscription form and doesn't want to get any notifications. With TrafficBack, after blocking the opt-in request, he will be redirected to another relevant CPA offer from PropellerAds network, which is your second chance to monetize the traffic you have already purchased. As we mentioned above, PropellerAds chooses relevant offers for user redirection based on the Rotation Algorithm.
Being an advertiser, you should also pay special attention to the last scenario - the one when your visitor clicks the Back button, like this:


Why is this option most appropriate for affiliates who strive for additional monetization? You see, when you rely on four previous scenarios, your subscribers are redirected from your offer pre-lander to those chosen by the ProPush system. Even though they are relevant, what you need is people's further interaction with your offer. Instead, you can just set TrafficBack to the Back button, and it will do the work.
TrafficBack is especially efficient when you work with Push notifications directly and use landing pages to collect subscribers. And if you are one of such affiliates, this is especially the case to set TrafficBack to the Back button. This way, you will get more income without any impact on your funnel. Why would you miss the chance of monetizing even those visitors who decided to leave?
How to make things work even better with TrafficBack?
You have two options of using TrafficBack for your analysis, further optimization and additional monetization:
You may generate a single TrafficBack link and set it for all the subscription events: allowed, denied, skipped, or already subscribed. These are the actions your visitors perform when they see an opt-in request. This way, you can monetize traffic following all scenarios. You can regulate this when you set TrafficBack up (see the last section of this article for a screenshot).
The second option is generating multiple TrafficBack links and setting them to each of the subscription events, as described above. In this case, you will see exact statistics regarding every scenario and user's action performed.
What is more, if you are striving for better optimization, we recommend passing your traffic sources data to the system and this way - estimate the performance of each. As a result, you will be fully aware which traffic sources are worth more investments.
Which income boost should you expect with TrafficBack?
Guess, we've discussed theory enough, and now let's move to practice. The statistics show how efficient TrafficBack can be:

What exactly do these numbers say? During one week, our partner received almost 44K subscribers who brought him $965. His preferred payment model is Revshare, which means that not only new subscribers, but also the old ones bring revenue.
After setting TrafficBack for all types of events, he received $166 more, which is 17% of his general income. Not bad!
However, 17% is not a limit - you have all chances to receive more. The percentage depends on the traffic you work with, namely GEO, OS, and platform. From our partners' experience, you can count on 20% of growth or so.
How to get started with TrafficBack?
Setting TrafficBack up won't take more than a minute of your time. Just enter your ProPush.me account and scroll a bit down, until you get to the second section. Choose TrafficBack option and you will see the following window:

Now choose events and zones for TrafficBack and additional income will start falling into your pocket soon.
Wait no longer - the faster you set your TrafficBack up, the earlier your revenue will grow!
1. What is Propush.me?
Propush.me is a special project of PropellerAds, which was designed to simplify the monetization of traffic with push subscriptions. Here we help webmasters and affiliates to earn high revenues on Push notifications.
Being a part of Propeller, we invested all our Push expertise into the development of this dashboard platform. We were the first to launch Push Notifications as an advertising ad format, so we know how to drive value for our partners. With Propush, marketers can additionally monetize their offers using our advanced push tag.
---
2. Who can benefit from Propush.me?
If you have a website, landing page or even a pre-lander with certain traffic volumes (that's important), then Propush.me is the right option for you. Our platform helps get extra profits from push subscribers collected from your traffic.
---
3. Do we provide ready-made landing pages?
We do not provide ready-made solutions, because we believe that a custom landing page will give you better results, since you can make changes to the landing yourself and significantly increase the CR. You have full access to the landing page at any time, there is no interference on our part.
Testing your landings, you can decide for yourself which landing works more efficiently. To create landing pages, you can outsource specialists or use landing page builders. We go on with our talk.
---
4. How to start earning with Propush.me?
We made sure that working with Propush.me is exceptionally easy. Here's how it's done:
Register with Propush.me (that was obvious, right?)
Create a Smart tag and add it to your landing page or pre-lander
Monitor performance, optimize, and make money (profit!)
We even have a super-detailed quick start guide where you can find comprehensive instructions on how to integrate everything and enjoy additional profits. It's right here!
---
5. How to verify my website?
You have two options for verifying your website. It will be quite easy. All you need to do is copy the verification code and place it between <head> and </head> tags in your site's source code or download our verification HTML file to the root directory of your website. By following this link, you will find detailed instructions.
---
6. What is a Sw.js file or Service Worker File?
A service worker file is a script that you need to upload in your website's landing page's root directory, opening the door to features like push notifications.
sw.js file is needed in order to deliver and show push notifications to those who subscribed before. You can download the service worker file in your personal account along with the tag.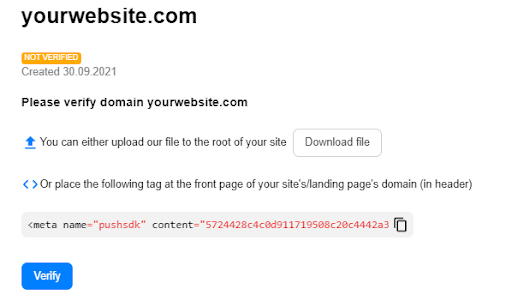 ---
7. What is the limit on the number of sources added?
We limit the number of sources to three by default, as we consider this volume optimal, however, the number of sources can be increased on request. If necessary, contact the support team and they will help you figure it out.
---
8. Will Propush.me affect my offer's conversion flow?
The answer is no. Why? Because it doesn't matter if your users decide to subscribe to push or not – they are not redirected anywhere. The opt-in request is shown on the offer page, and users can freely interact with this page and convert.
---
9. What monetization options exist, and how is each one paid?
At Propush.me, you can make money with Push subscriptions and TrafficBack. How do you make money with Push subscriptions?
There are two scenarios:
Revshare: you get paid for every 1000 push notifications delivered to subscribers you brought. Your income depends directly on the quality and the lifetime performance of these leads.
CPS: you are paid each time a unique user subscribes to Push Notifications on your website/landing page. Prices for each GEO and platform can always be found in the "Rates" tab of the dashboard menu on the left.
A special monetization option, perfect for affiliate marketers is TrafficBack. Your second chance to monetize ALL traffic if your primary monetization method didn't work out.
Each webmaster can set trafficback to be triggered in certain events: if the user subscribes (=clicks "allow"), if a page visitor is already subscribed, etc.
In other words, we don't have a default scenario. You have to set up how trafficback will be triggered: be it a specific event (consent to receive push, rejection, etc.) or all the events.
Trafficback is paid with Revshare as well.
---
10. How can I track and optimize the traffic sources?
In your Propush.me account, you can track and optimize the traffic sources, exclude them if there are no conversions, and include the most converting sources to your stats using the parameter Source ID. We encourage the transfer of sources, as it also allows us to better optimize traffic and give our partners better results.
In order to do that, you should pass the ID of the source. Need more information? You can read all the detailed instructions here.
---
11. What does each of the parameters in statistics mean, how do we calculate CPM?
CR (Conversion rate) – is the number of pre-requests to the tag (the whole amount of traffic sent to the landing page/site) divided by the number of actual subscriptions we got from this whole traffic.
First Impressions - identificator which shows how many first impressions we got from the users subscribed on this or that day and who got the first push right after the subscription. The difference between First Impressions and Subscribed you got per one day should not be significant. If the number of new subscribers greatly exceeds the number of first impressions on that day, it's likely to be low-quality traffic.
Duplicates - users already subscribed to the database of PropellerAds. Duplicates are paid only with Revshare.
CPM (Cost per mille) – the average cost of 1000 impressions per geo/platform/overall.
We really hope that some things have become much clearer. Propush team stays in touch with you, we are ready to answer your questions any time. Ready to earn with push subscriptions? Then see you at Propush.me!
Join our Telegram chat if we haven't answered all your questions.
Not all the affiliates know about special tools for additional monetization - those that can help you get more income without too much effort. One of such tools is a Smart Tag from ProPush.me. 
We bet that you will get inspired by this example, so read on and take a good note!
A few words about the ProPush.me Smart Tag
The Smart Tag could be installed to your landing page as an opt-in window that will help you collect push subscribers for additional monetization. This means that you can receive cash from your main offer, plus - from users that subscribe to push notifications.
The opt-in window or form doesn't interfere with the flow. Whether users subscribe or not, they stay on the page of your main offer without getting redirected to another one. As such, they continue interacting with the offer, which means that your conversions won't be affected.
Now let's move to the case study of our partner and see how this Tag works practically.
Case study: basic details
Our partner is a media buying company focused on SOI (single opt-in) leads. Here are the offer details:
Offer: Sweepstake Gift Card
Vertical: Sweepstakes
Flow type: SOI
Pricing model (ProPush side): RevShare (СPM)
Our partner also used a pre-landing page with a survey. The ProPush.me Tag was installed right to this page, take a look: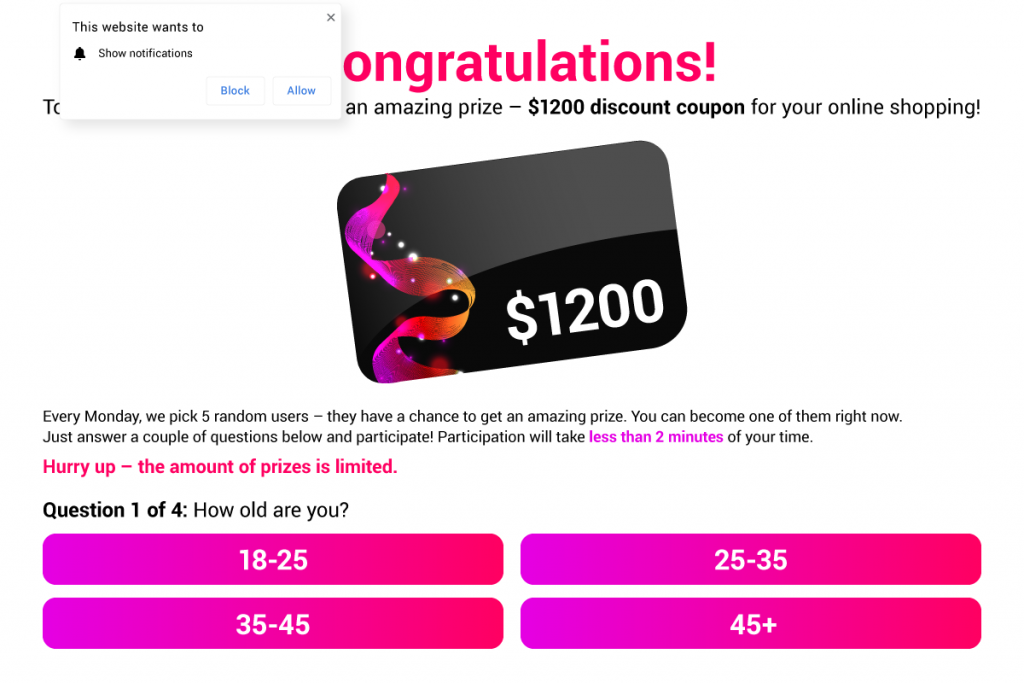 As you can see, there is an opt-in window out there and this is exactly the way the Smart Tag works. Users can subscribe for push notifications if they want to and this will bring additional income to your main offer. If they refuse, well, nothing really happens - people will continue interacting with your pages, that's all.
So, our partner just added the Smart Tag to the landing page of the offer. Sweepstakes offers don't require any specific Smart Tag settings - you just put the Tag code to the body of your landing page, as high as you can. The service worker file (the one responsible for push notifications delivery) should be placed to the landing's root directory. Here:

As we have mentioned before, users stay on the offer page after they subscribe (or not), which ensures stable CR. Our partner didn't set TrafficBack, because it doesn't fit his funnel. Still, it's a good idea to test it for your offer and set it up at the end of the funnel once the main offer conversion has already happened - this will add extra monetization to that user.
The chosen pricing model was RevShare (CPM). Compared to CPS (one-time payment per each subscribed user), RevShare ensures gradual long-term income, which suited our partner better.
Traffic details
And now let's talk about specifics of traffic purchased at PropellerAds and used for the main Sweepstakes offer:
Period: 05/11/2021 - 05/12/2021
Format: Popunder
GEOs: Germany, Italy, Spain, Belgium, Ecuador, Mexico
Platforms: Android - 54%, Windows - 21%, MacOS - 9%
Budget: $700-$2000 daily
Our partner preferred Popunder, since this format is the most suitable one for his business model that entails significant lead volumes.
Finally, we moved to statistics, and here are our partner's traffic and GEO spends in his PropellerAds advertiser account:

And now let's take a look at the additional income from the ProPush Tag for the same GEOs and during the same period:

The average income from the Smart Tag was $300-$500 daily. Sometimes, revenue from the Tag covered 50% of the traffic cost.
Remember that the CR depends on the traffic type, source, and chosen GEOs.
Your CR can potentially grow even bigger than in this case - just make sure to test different GEOs and see which perform exceptionally. Spot this recommendation for your push subscriptions.
Here is how the daily stats look at PropellerAds:

And here come the daily stats from ProPush.me, including profit and conversions:

Comments and insights
The juiciest part of our case study is still ahead! So stay tuned and let's discuss more numbers to make some conclusions about the Smart Tag efficiency.
The total amount of traffic for chosen GEOs: 65,814,640 impressions
As our partner informed us, his first tests with Smart Tag were performed on the limited traffic volume. So it's not surprising that not all the traffic purchased from PropellerAds was driven to the pre-lander with the ProPush tag.
In general, our partner has spent $37 210 to buy traffic at PropellerAds for his Sweepstakes offer.
The ProPush Smart Tag brought $11 114 of additional income for the same traffic during the same period, which makes about 30% of the traffic cost.
Summing up
So, our main conclusion about the efficiency of the ProPush.me Smart Tag is… It works! You have all chances to get 30% of your traffic cost without any significant effort.
Additional monetization with push subscriptions suits almost any vertical, but it is especially winning for Sweepstakes offers because of their simple flow. Users don't experience any difficulties when interacting with your offer - an opt-in window is non-invasive and does not interrupt their browsing anyhow.
Choosing the pricing model, you have two options:
CPS (payment per every subscribed user) - instant income for everyone looking for fast results. Especially suitable for high subscription prices.
Revshare (long-term payment that lasts during the entire subscription period) - this one ensures that subscribers continue to bring cash for a pretty long time, + duplicate subscriptions are also paid. Revshare was chosen by our partner.
And here is another great news from ProPush - it has adaptive rates. What does it mean? If the system marks your traffic as high-quality, you will have a chance to get an individual plan (for instance, raising the CPS rate).
So, start getting more money with PropPush.me Tag today - install it to your pre-landing or landing page and enjoy the flows of income flooding right into your pocket!
---
Join our Telegram chat to discuss this head-spinning case study or share your experience with Smart Tag! And...